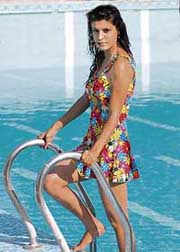 Chic

swim
It's swimming season. But before you leap, look for chic swimwear that will carry you along with the current of fashion, says Saurabh Malik
You have waited for the pools to open since long. And now that the spring boards are creaking once again, the deep blue waters of excitement are propelling you to plunge away from the heat. After all, nothing pulls you out of the summer deeps better than a nice swim. But then, with so much to choose from in swimwear, you are practically at sea. You want the best? That's understandable. For, you always go with the stream. Whether its apparels or mobiles, you allow the current of fashion to carry you away all the way. So why shouldn't you keep up the appearances while swimming? As the markets are flooded with teeny-weeny bikinis and swimsuits, along with chic accessories right from sarongs and swim caps to sandals and thongs, freezing options is not easy.

FLOWER POWER: A swimmer makes a fashion statement with bright floral swimwear at Lake Club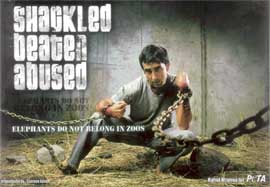 Elephant love
Do you love elephants? Actor Rahul Khanna does and that explains why Rahul is now committed for a special campaign 'Elephants are not for 2005.'Posing next to the tagline 'Beaten, shackled, abused — Elephants Don't belong in Zoos,' Rahul stars in a captivating ad for People for the Ethical Treatment of Animals (PETA), India. Shackled in chains, with bruises painted onto his body, Rahul has been shot by top photographer Colston Julian. Ask him why is he making a statement for elephants in captivity? And, he narrates a series of incidents. Last year, Mumbai saw the death of an elephant named Laxmi who was hit by a speeding tanker; due to lack of proper medical attention, Laxmi who suffered with a broken leg and spinal injuries died a day later.
Over a cup of coffee
Does 'coffee needs company' or 'coffee is company'? Coffee-friend Ashi and Devaiah debate on the subject
Gayatri Rajwade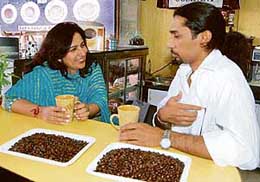 Goats will eat anything" states an article on coffee in the National Geographic magazine. While goats may have discovered the cherry-red berries containing the beans a long time ago as the annals of coffee history tell us, they certainly needed their other fellow goats around when they started to gambol to the effect of these berries! So what really is the point of this story, you may well ask? While it is about two friends who met and bonded over coffee and coffee alone, the question really is, does 'Coffee Needs Company' as café owner Ashi (who incidentally runs a café of this name at Browser Bookstore and Library, Sector 8) believes or is that 'Coffee is Company' as her coffee-friend Devaiah (owner of a coffee plantation in Coorg) insists!
Dial up fun
Saurabh Malik
Mobile phones are all set to ring in a revolution. In another few months, along with Santa-Banta jokes on the short message service, you receive the dope on the flicks playing in the neighbourhood multiplexes, even a word on the big sales in the garment houses. All free of costs! Connected to ingenuity, cell-phone operators are also dialing up a system to beam television programmes especially designed for your mobile phones. Just in case you still haven't got the picture, the serials will be of much shorter duration; a maximum of 10 minutes.
Cool Stuff
Recharge for a work & weekend style
Tommy Hilfiger's chic range of capris is their special addition to the spring summer collection. The fun and glamorous collection is designed to refresh your wardrobe. It reflects a fresh take on the classics and fits today's modern lifestyle. One can choose from ankle length, calf length or to the trendier knee length capris. There are snug fits enhanced with lycra, comfort fits in airy cottons, convertible styles in cool linens and satin weaves for a dressier look. A complementary range in denims gives it a modern-day flair. Interesting add ons like belts, pocket details, salty washes and extremely fashionable dungaree treatments add to the collection.
Little Interview
Following mom's footsteps
A trained dancer backed up by an acting course, Anjori Alagh is more than a star kid. Actress Maya Alagh's daughter, Anjori makes her debut on the silver screen with Vikram Bhatt's 'Life Mein Kabhie Kabhie'. She is committed to carry forward her mom's legacy of acting. The debutante talks to Life Style about her childhood, mom and her maiden performance.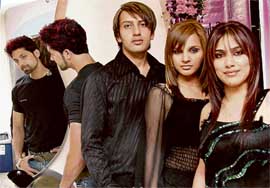 Show your true colour
Smriti Sharma
The sweltering sun is already here and it's the perfect time to go in for a complete make over. With summer apparels all out of the closets, the only thing that stops one to go out and make a style statement is perhaps a new funky hairdo. A perfect summer hairstyle to go with chikan kurtis, capris or a long flowing gypsy skirts, spaghetti tops. Well, this is precisely what Nitin Manchanda, regional technical head; Schwarzkopf and a leading hairstylist is here for, to launch Schwarzkopf professional spring summer collection at Tocado in Sector 8, Panchkula.
FILM & FASHION
Justin justifies Britney's action
Singer Justin Timberlake is sure that his former love, singer Britney Spears, will cope with her turbulent life, because less than a month after her rehab stint, the Toxic singer has already brought lot of things under her control. Speaking at a press conference for his new film Shrek 3, Timberlake said the 25-year-old pop singer is 'a great woman', and that it looks like she is on the right track."She's a great woman. I'm rooting for her. It seems like she's getting everything under control now," People magazine quoted Timberlake, as saying.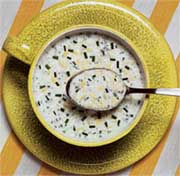 Cool as a Cucumber
Rajiv Bhatia
It is getting hotter by the day. Even though the mornings and the evenings are still relatively pleasant, one just 'sweats' at the thought of the sultry days ahead. If you too are planning ahead, and thinking of ways and means to beat the heat, just get ready to taste cold soups. For those on a diet, cold soups are ideal. In fact the bowl of health is indeed a boon on hot summer days when you run out of low calorie options. This is not all. If you are bored of entertaining your guests with the same cold drinks, think of cold soups. It's a great way to change in your dull day's menu. Lets' read what city chefs and restaurateurs have to say about cold soups.
BON APPETIT
Wild about Watermelon
A slice of succulent watermelon is a two-in-one treat. It can simultaneously satisfy hunger pangs as well as quench our thirst in a delightful manner. Watermelon is 92% water by weight, has minimal calories, and is an excellent source of Vitamin C, A, B & Lycopene. By sheer size, this must surely be nature's biggest bounty!
Wholesome goodness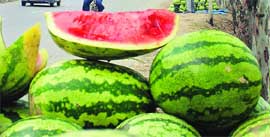 Watermelon is the perfect way to combat the rising mercury. Slice, scoop, drink or make a face pack, says Purva Grover
There are many ways to sense the arrival of summer. Undoubtly, the clearest and the apparent is the scorching sun rays. But, there are other signs too; the rolling in of chic styles in shades, increasing sale of sunscreens and of course the sight of hundreds of watermelons stacked in a corner of the road. Come April and the city is dressed up in a true 'melonish' style.
---