Of blood red in olive green
Himmat Singh Gill
Victoria Cross Winners of India
By Jaswant Singh and Manvendra Singh.
Rupa. Pages 186. Rs 395.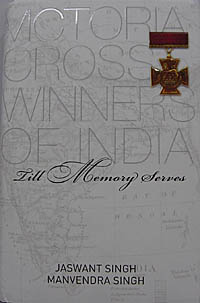 Lean in page size, but not in terms of bravery and Herculean conduct of the soldiers who sacrificed their all in the service of the British government in the First and Second World Wars, this is the saga of Victoria Cross winners from India by the father-son team of former Defence Minister Jaswant Singh and Manvendra. In these days of selfish politicians, obliging bureaucrats and the public with a take-all-but-give-none attitude, it is refreshing to note that there are in the services islands of selfless devotion to duty.
Many who adorn these pages with their glorious conduct died during action, earning this highest gallantry award, equated with the Param Veer Chakra today. Jaswant Singh, a colleague from our Army days in the cavalry, has done well to pick on a subject that will resurrect the memories and deeds of a few who performed not for reward or citation, but a belief that they had been assigned a task that had to be done irrespective of the consequences. Of course, editors or authors, if you like to call them so, could very profitably have expanded their brief to include interviews with the next of kin and other relatives and how they are faring today, or possibly added a sketch or a map of the battle zone where the action took place.
The Victoria Cross was created by the British government by a royal warrant on January 29, 1856, and has today completed 150 years of existence. With the death of honorary Capt Umrao Singh in 2005, the last surviving Victoria Cross winner from India, there are now only 12 Victoria Cross awardees, 6 British, 2 Australian and 4 Gurkha, and so rare is this breed that their deeds have to be nurtured for all times to come. Hav Umrao Singh's citation extract in 1944 on the Burma front reads, "Six hours later, when a counter-attack restored the position, he was found in an exhausted state beside his gun and almost unrecognizable, with seven severe wounds, and 10 dead Japanese around him".
Lt Karamjeet Singh Judge of the 4/15 Punjab Regiment, whose elder brother Col Ajit Singh Judge donned the olive green too, died serving the country well in Burma. "He personally led the infantry in charges against the bunkers and was invariably the first to arrive. In this way, 10 bunkers were eliminated by this brilliant and courageous officer." L.D. Gobind Singh of the 28th Light Cavalry, in the battle near Gauche Wood, near Cambrai in France, thrice volunteered to carry operational messages from the unit to the brigade headquarters in the face of heavy enemy fire. Each time, his horse was shot, with the runner completing his journey on foot.
There have been three cases of a father and a son winning the Victoria Cross, with the youngest winner being 15 years and three months old at the time of the action. Between 1912 and 1947, the Victoria Cross was awarded to 40 Indian soldiers. Four sets of brothers, including Maj Charles and Lt Hugh Gough, have been honoured with the Victoria Cross. Interestingly, there have been two cases of the Victoria Cross being awarded to Lt-Cmdr Gerad Roope and New Zealand Flying Officer Lloyd Trigg, both on the recommendation of the enemy, who valued their bravery and courage.
A highly interesting record, it shows that till 1912, the Victoria Cross was not awarded to any Indian soldier. The only award for bravery for the native between 1837 and 1907 was the Indian Order Of Merit, and it must be highlighted that 21 personnel of the 36th battalion (4 Sikh) received this award for their highest order of gallantry at Saragarhi on September 12, 1897, in the North-West Frontier Province, a record that UNESCO names as one of the rare acts of collective bravery in the annals of world history. This supreme sacrifice by the 21 men against 10,000 Afghans and Orakzais would, in my mind, be as worthy of a Victoria Cross and needs to be recognised today by the Indian government in line with the award of a Param Veer Chakra.
Possibly Jaswant Singh can take it up in the Rajya Sabha along with other cases of the kind that need a presidential review. This book needs to be read by our politicians and soldiers alike, so that the latter can try and emulate a glorious past in the wake of many charges of fake encounters that one hears of these days, and the former can wake up to the legitimate mental and material rights and needs of today's men in uniform.