Green Wedding
Reduce your enviro footprint
Make choices that effect change — healthier, more beautiful and, well, sustainable, writes Gayatri Rajwade
Green is in and gold is out. Yes, we declare this to be the new blush for this season and forever. However, if you are thinking of ferns and leaves, of olives and jalapenos or even lime-green caterpillars there is more to come.

Bowled out
After sporting the tri-colour costumes and banging the drum for long, one billion broken hearts have now decided to speak out, writes Saurabh Malik
Call them devotees who are hurt after the fall of the idols from the pedestals of honour, or third empires eager to give their verdict; the cricket buffs in this part of the region and across the country want an Indian to coach the team. They actively support BCCI's move to limit player endorsements and want the former star of Indian cricket, Sachin Tendulkar to end his innings.

First Day First Show
Thrillers disappoint
Big Brother
A below average film with the usual run-of-the mill story for any Sunny Deol starrer. The film develops with the typical plot of a one-man army against the evil forces. at lifestyle@tribunemail.com or care of Lifestyle, The Tribune, Sector 29-C, Chandigarh
I am a girl in my early 20's with a passion for shopping. My friends call me a shopping addict. My family also makes me feel guilty about it, as my pocket money also goes into shopping . I feel satisfied thinking that it is my money and I can shop or save. Is there a way of explaining my predicament please help.

Tyson to dance to Bollywood tunes
A diamond heist, a Bollywood dance routine and Mike Tyson make an unlikely combination. But the former heavyweight boxing champion is set to groove to Indian pop music in a promotional video for a Bollywood comedy set for a June release, the film's media consultant has said.

Prabal Pramanik captures the true essence of his adopted village, Bhamlada, in his latest book. Parbina Rashid talks to the master paper-cutting artiste
Every time master paper-cutting artiste Prabal Pramanik pays us a visit, he brings his adopted village, Bhamlada, a step closer to us. This time he is presenting us the place in its pictorial form. Yes, Pramanik is coming along with a treasure house of four books, and Bhamlada is one of them.



Little Interview
Waiting for K magic
Manish Nagdev was fresh out of school, when the acting bug bit him. This 22-year-old Mumbaikar who plays Chinu in Dulhan, a popular soap on Zee TV is a former student of Kishore Namit Kapoor Acting Labs, Mumbai. It was Manish's passion for acting that got him enrolled in the course. He talks to Life Style about the importance of attending an acting school.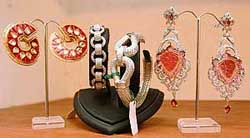 Transform your trinkets
All of just 25, Nitika Bhandari, is the creative director of her family's export house in Ludhiana. But, certainly there is much more to her than this. A graduate from Pearl Academy of Fashion, a gemologist and jewellery designer from Jewellery Design and Technology Institute from Delhi, Nitika brings to the city her exquisite jewellery collection, for the first time.
Matka chowk
Spiritual Tailor
In one of the spiritual self-help books I read recently, I learnt that the subconscious mind is very receptive and willing to deliver back to you whatever you tell it to do. The subconscious mind does not argue, does not challenge your bidding and does not talk you out of your whims. All it says is "Yes. Yes. Yes." Then it tries to fill your order.
---