| | | |
| --- | --- | --- |
| | HIMACHAL PRADESH | |

BILASPUR
Electoral rolls: Photo electoral rolls of Geharwin (reserved) and Ghumarwin assembly constituencies of the district have been published and have been placed for inspection in the offices of all subdivisional magistrates (civil), tehsildars and naib tehsildars in the district. District electoral officer and DC Rajendar Singh said here on Saturday that names and photos of all those who had completed 18 years of age up to January 1, 2007, had been included in the lists. The lists have available at every polling station.
Sanitation drive: The Samvedana Charitable Society at Ghumarwin, near here, has launched a sanitation and cleanliness campaign in villages of Ghumarwin tehsil under the "Jan Shasktikaran Satygraha". This campaign was launched by chief guest and Kargil war hero Param Vir Chakra winner Sanjay Kumar at Mehada village near Ghumarwin, about 40 km from here, on Saturday at a function.
SOLAN
New timetable: Uneven distribution of work in the new timetable framed by the Education Directorate has evoked sharp criticism from school lecturers. H.P. School Lecturers Federation chairman Narender Sharma said the teaching work had been unevenly distributed as 20 to 36 lectures has been given to a single lecturer in a week, while lecturers of crucial subjects had not been allotted any workload.
SHIMLA
Water supply scheme: Chief Minister Virbhadra Singh dedicated to the people the Rantali Lift Water Supply Scheme at Rohru on Sunday. The scheme has been completed at a cost of Rs 1.45 crore.
HVC meeting: The Himachal Vikas Congress will put up candidates in all 25 wards for the Shimla Municipal Corporation elections to be held next month. The decision was taken at the meeting of the state executive of the party held here on Sunday. State party chief Des Raj said the party was open to alliance with any party other than the ruling Congress and the main opposition BJP.
A sketch of the President A.P.J. Abdul Kalam was presented to him by Ankush Kalia of Badhani recently.
Prez and the pupil
It is a moment that will remain etched forever in the memory of this sketch artist. For, presenting to the President of India, Dr A.P.J. Abdul Kalam, a pencil sketch of himself was indeed a special honour for Ankush Kalia, a student of Class XI, Dalhousie Public School, Badhani, who had visited Rashtrapati Bhavan in New Delhi sometime back.
This Pathankot-based student is bright and talented and, in fact, an all-rounder, says the Dean of his school.
Ankush says that though he has had the opportunity to make pencil sketches of several famous people earlier, presenting his sketch to Dr Kalam sometime back will remain the greatest honour of his life. The preserved copy of the sketch autographed by the President indeed bears testimony to this.
Contributed by Bharat Bhushan Dogra
Programmed for poetry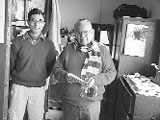 BONDING WITH THE BEST: Hisar-based Gautam Dhar with Ruskin Bond in Mussoorie.
A Haryanavi by birth, an American by chance, a poet by nature and an IT professional by choice. That's how the versatile Hisar-born Gautam Dhar can best be described.
However, there's much more to him. Gautam recently published his first anthology of poems entitled 'The Old Man Said' in the United States, where he currently works as a systems administrator with an e-learning company. This is his first book.
The editorial review of his book on www.amazon.com read, "Creative by nature, Gautam Dhar seeks an image in everything. From a drop of the early spring rain to a shivering bird when it snows. The charisma in all life forms never fails to make him ponder. Born in a small town in India, Gautam started writing in high school, though nothing serious came of it until he was a freshman in college… This is a nostalgic collection of poems enwrapped with love and serenity that a heart longs for."
Gautam himself has this to say: "The Old Man Said is more than poetry. It's never easy to express yourself in words and when it does happen, wishes start to seem sweeter than wine. From traditional poetry to folk ballads, this anthology tries to reveal true picture of a loving heart. It brings back all those photographs and memories that usually sit locked-up behind the walls of your fears and emotions."
He did his schooling in Rohtak where his family lives. His wrote his first poem in December 2001. Other than writing in English, he also writes ghazals and nazms in Hindi, which he sometimes recites at gatherings. He also tries his hand at composing some of his poems and songs on guitar with the help of friends.
The decision to move to the USA was not his, but his father's. However, he does not regret it as he says: eventually everything worked out well.
Gautam is an avid fan of Ruskin Bond. He met Bond in December last year at Mussoorie. He is fond of photography and has his own website www.gdhar.com where one can find his blogs, musings and also listen to some of his compositions. Currently, he is working on the manuscript of his second book.
— Raman Mohan