M A I N N E W S
Indian Navy holds joint drills with top naval powers
Anil K. Joseph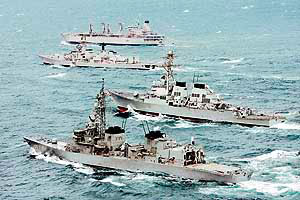 Naval ships from (bottom to top) Japan, USA and India operate the first joint naval exercise in the Pacific Ocean off the coast of Japan's Chiba prefecture on Monday. —AFP
Tokyo/Beijing, April 16
The Indian Navy enhanced its global profile today holding its first ever joint naval exercises with the United States and Japan and separately with China.
As India, the US and Japan try to forge closer ties, their navies held joint naval drills in the Pacific Ocean.
Japan sent four escort vessels to the drill off Japan's east coast, where two US destroyers and three Indian warships joined the exercise, a Japanese Defence Ministry spokesman said.
"The first naval drill between Japan, the United States and India is aimed at boosting the friendly relationship among the three countries as well as improving maritime technique," the spokesman said.
The drill also envisages cooperation in the event of a major natural disaster such as a tsunami.
Japanese Premier Shinto Abe agreed to the naval exercises during a summit with his Indian counterpart Manmohan Singh in December.
Official sources said in Beijing that Indian naval ships conducted manouveres with the People's Liberation Army (PLA) Navy Northern Sea Fleet off the eastern coast of China. The exercises were part of efforts to enhance mutual trust and inter-operability and give further substance to the strategic and cooperative partnership between India and China.
The visit of the Indian ships — INS Rana and INS Ranjit — also builds on the momentum of exchanges between the Armed Forces of India and China. — PTI