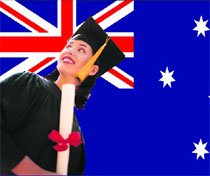 TROUBLE DOWn Under
Itís not smooth sailing for Indian students in Australia, as was highlighted by a recent protest against a university, writes Inderdeep Thapar
The recent agitation by students of Central Queensland University (CQU) in Melbourne threw the spotlight on several issues facing the Indian youth who head Down Under for higher studies. The three-day fast by 122 students of CQU was finally called off after the university agreed to give provisional enrolment to those who had been protesting against the mercenary attitude of the authorities. All the students had been told they had got supplementaries and would have to redo the semester.



Careercature
Sandeep Joshi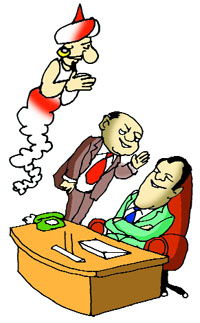 Sir, this little genie wants a job. Should we appoint him to write our companyís annual reports?

Now, testing time for lawyers
The nascent legal process outsourcing (LPO) industry in India is set for a quantum leap with the introduction of a new Global Legal Professional (GLP) certification test for law graduates in the country.


most Wanted
1000 CEOs, 2.3 m IT experts
With economy booming, India is running short of 1,000 chief executive officers (CEOs) across industries as it requires a projected 2.3 million professionals for Information Technology and IT-Enabled Services by the year 2010.



Bits & bytes
Weekend courses to woo professionals
With a view to helping working professionals learn while they earn, Guru Gobind Singh University (GGSIPU) recently started a series of weekend programmes in management, engineering and media.


ANIMATION
OUTSOURCING IN REVERSE GEAR
Sangeetha G
With several home-spun projects at its disposal, India's animation industry has come of age and could even resort to "reverse outsourcing" to fill the talent gap.


Showcase your skills to attract interviewers
R.C. Sharma
One fine morning, you get excited after seeing an advertisement in the leading newspapers asking candidates to attend an interview for a job with a reputed MNC. Like many fresher candidates, you too make up your mind to try your luck. However, keep in mind that like you there are hundreds of candidates aspiring for the same job.



Time to get punctual
I.M. Soni
Are you suffering from the widespread always -late syndrome? No matter how hard you try, you fail to be there on time. You are late whether it is the class lecture at 11 a.m. You know that to get to a class lecture on time, you must be out of your house at least half an hour earlier.


Smart Skills
be a News maker
Usha Albuquerque
Do you dream about becoming a Barkha Dutt, or Vir Sanghavi? Do you wish you could interview Aishwarya Rai where she talks to you about her heady ascent to stardom and her impending marriage? Or do you feel strongly about poverty, and corruption and see yourself investigating the biggest scandal of the decade?


Career Hotline
Swaras and stitches
Pervin Malhotra
Q I am interested in becoming a fashion designer and a musician. Can I pursue both careers simultaneously? Please advise.
ó Farhad Ahmed