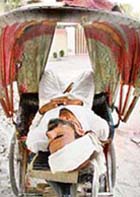 Who needs an AC: A rickshaw puller enjoys afternoon siesta unmindful of heat in Ludhiana on Tuesday. — A Tribune photograph
Power Woes
Residents doubtful but PSEB hopeful of better supply
Ludhiana, April 17
Come summers and power begins playing truant. The situation is not much different this time. However, unlike earlier, this time the industry and Punjab State Electricity Board (PSEB) officials are hopeful of an improvement in the situation.
Dhanda, Khalsa get their due, finally
Ludhiana April 17
After having been virtually sidelined during the allocation of Cabinet berths, the Ludhiana district seems to have been compensated by Chief Minister Parkash Singh Badal with the appointment of two Chief Parliamentary Secretaries (CPS), Harish Rai Dhanda from Ludhiana West and Bikramjit Singh Khalsa from Khanna. Both had strong claims and credentials for the different reasons. Dhanda happens to be an outstanding lawyer and a legal luminary. Besides, he had defeated Congress veteran Harnam Dass Johar by a huge margin and that too in a constituency that was considered traditionally to be a Congress stronghold. Moreover, he is a brilliant orator and an articulate spokesman, who can always and certainly does, defend the government and the party effectively when it comes to arguments

Widows of terror victims threaten stir
Ludhiana, April 17
Dissatisfied over the existing policies of the state government, widows of those killed by terrorists today threatened to resort to agitation if they were not granted the relief amount of Rs 4 lakh each, at the earliest.


Widows of terrorists attacks relate their tale of woes at a sangat darshan programme held at the Bachat Bhawan in Ludhiana on Tuesday. — Tribune photo by Sayeed Ahmed
24 complaints redressed at sangat darshan
Ludhiana, April 17
The first district-level sangat darshan programme, to hear complaints of people in the presence of government department heads took place at Bachat Bhawan, here, today.
Study circle holds blood donation camp
Ludhiana, April 17
The Guru Gobind Singh Study Circle organised a blood donation camp, a medical check up camp and a tree plantation drive at Guru Nanak Dev Engineering College (GNEC) here today. A seminar on the topic of "science on living" was also held on the occasion.



A volunteer donates blood at the blood donation camp organised by the Guru Gobind Singh Study Circle in Ludhiana on Tuesday. — A Tribune photograph
Biography of VRTC founder released
Ludhiana, April 17
Sharanjit Singh Dhillon, MP, released the biography of Dr E.M. Johnson, founder director, Vocational Rehabilitation Training Centre for Blind (VRTC), at the centre's auditorium here today. Harish Rai Dhanda, chief parliament secretary, presided over the function.
Protest against TV channel
Ludhiana, April 17
Activists of the Bharatiya Valmiki Dharm Samaj today took out a procession against a private television news channel for allegedly showing 'disrespect' to Mahirishi Valmiki.


Activists of the Bharatiya Valmiki Dharm Samaj take out a procession against a television news channel in Ludhiana on Tuesday. — Photo by Inderjeet Verma