Golden hands are Subroto's gift
Anuradha Shukla/Tribune News Service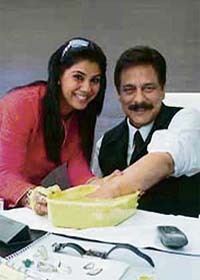 Artist Bhavna Jasra takes hand impression of Subroto Roy
Chandigarh, April 17
Abhishek Bachchan and Aishwarya Rai have everything going there way and with the two deciding to hold hands for a lifetime what better gift than a unique 3D-cast impression of them made in gold.
Yes, with everyone showering blessings on the golden couple and being among the few guests invited to the low-profile wedding, close friend Sahara king Subroto Roy is ready with the very special gift to bless the couple.
The Sahara king is getting the 3D-cast impression of the two holding hands made in gold ready from none other than artist Bhavna Jasra, who has won many hearts in the region also with her unique art.
The "thousand per cent personalised gift," as Bhavna calls it, has got many takers from the region too over the past two months since Bhavna decided to come here to book orders.
Visiting Chandigarh and Ludhiana every month to take the 3D impressions, Bhavna says she now is working on the gift and took the impressions of them holding hands a few days back.
"I am now busy finishing the gift in time for the D-day," says Bhavna. The gold cast will be put in a beautiful carved frame with a backdrop of silk, says her aide Gunjan Adya. The picture of the couple or even a caricature of the person done by famous cartoonist is what Bhavna uses to add that extra zing.
Bhavna, who recently made the hand impression of Hrithik Roshan's son on his first birthday and likes of Ekta Kapoor and umpteen artists, has been making waves with her unique art all over. It all started in London where she had gone to take a break and saw a woman making hand impressions and decided to make it her full-time profession.
The special personalised gift came the Abhi-Ash's way when Bhavna had gone to Ambi Valley to take hand impression of Subroto Roy. "He liked the concept so much that he decided to gift an impression of Abhishek-Ash holding hands cast in gold on their wedding," says Bhavna.
With the Bachchans doing every bit to have everything go well, including being very much guarded on the details of the wedding, the earnestness showed as the impressions were being taken. Aishwarya held Abhishek's hand so tight that Bhavna had to tell her to loosen the grip and all the doe-eyed beauty said was how else as "It is for a lifetime!"
Sure it is and the feeling is now well-immortalised in gold!