Hot here, snow there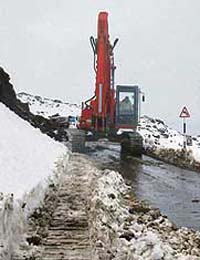 A snow cleaner cleans the snow covered Jawaharlal Nehru Marg which leads to Nathula on Tuesday. — PTI
Choppers land Rahul, NDA in row
New Delhi, April 17
The NDA today complained to the Election Commission that authorities in Uttar Pradesh denied landing permission to the helicopter carrying JD (U) leader Sharad Yadav, but instead allowed Congress MP Rahul Gandhi to land at the same spot for electioneering.
EC to discuss poll arrangements with Goa CS
New Delhi, April 17
The election commission (EC) has called the Goa chief secretary, its director-general of police (DGP) and the home secretary for a preliminary meeting here tomorrow to discuss arrangements for the forthcoming Goa assembly elections.
Nitish vs Naxals figures in ministerial meeting
Patna, April 17
A sharp decline in extremist violence in Bihar in 2006 compared to previous years figured at the close-door inter-ministerial group meeting held here yesterday. It was chaired by Union Home Ministry's additional secretary (Naxal management) Vinay Kumar and was called to discuss how to eliminate Maoist problem in the next three years.
Politics or football function
New Delhi, April 17
It was meant to be a function to celebrate the 70th anniversary of the All-India Federation of Football. But as it turned out, it became a forum for political positioning.
No teacher in 9,503 primary schools
New Delhi, April 17
As many as 9,503 primary schools in the country have no teacher and another 1,22,355 have only one teacher each, says a recently published report card on schools.
Missing youths abroad: SC's no to CBI probe
New Delhi, April 17
The Supreme Court has expressed its inability to order CBI probe into to the whereabouts of 37 Punjab youths sent to Spain by some travel agents on the promise of getting them jobs in Europe three years.
Haryana charged with releasing less water
New Delhi, April 17
Even as the Haryana government had sought the transfer of Yamuna water sharing dispute with Delhi to the Water Disputes Tribunal, in a fresh application moved before the Supreme Court today the state was charged with releasing less water to the national capital that had precipitated the crisis here.
'61 pc Indians sexually satisfied'
New Delhi, April 17
Indians do everything in a hurry and this includes sex. A new global survey on sexual well-being by Durex has inferred that Indians have "the quickest sex-devoting on an average just 13 minutes to each session compared to a global figure of 18.''
Indian prof's killing
IIT Kanpur students shocked
Kanpur, April 17
The students and staff of IIT Kanpur have expressed shock and grief at the death of its alumnus G.B. Loganathan in a shooting incident at Virginia Tech University in the US.

In video (56k)
US navy chief visit to 'deepen' defence ties
Mumbai, April 17
The ongoing visit of US navy chief Admiral Michael Mullen to India is expected to deepen the defence ties between India and the US, according to naval officials here.


12-yr-old boy falls in manhole
Ghaziabad, April 17
A 12-year-old boy fell into an open manhole in Kotwali area here today morning. Army jawans were rushed to the spot to rescue Aas Mohammad, alias Kalua, son of Rais and a resident of Amar Colony, from the 12 feet deep manhole.
AG's term extended by 2 years
New Delhi, April 17
The Centre has decided to extended by two years the term of Attorney General Milon K Banerjee, Law and Justice ministry sources here said. A notification regarding his "re-appointment" as Attorney-General is being brought out, the sources said.
ABVP men attack 5 professors
Warangal, April 17
The teaching and non-teaching staff of Kakatiya University called for a bandh today after activists of the Akhil Bharatiya Vidyarthi Parishad manhandled five professors at an examination branch on the university premises.
Dacoit killed in encounter
Bhopal, April 17
Dreaded dacoit Rambabu Gadaria was killed in an encounter with the police in the Kanherkho Aamkho jungles in Shivpuri district of Madhya Pradesh.



Videos
Yana sings a new tune.
(56k)
Salem to be produced in Delhi court.
(56k)
Museum traces three decades of Tibetan struggle.
(56k)
Mumbai Star News office attacked.
(56k)