Workers, farmers hold protest rally
Ludhiana, April 18
Protesting against the alleged "anti-labour" policies of the government, high inflation and unemployment, the Centre of Indian Trade Union (CITU) Kul Hind Kisan Sabha and All-India Farm Workers Union today held a protest rally at the Mini Secretariat here.



Industrial workers and farmers hold a protest rally at Mini Secretariat in Ludhiana on Wednesday. — Photo by Inderjit Verma
From Colleges
9 engg students shortlisted at job drive
Ludhiana, April 18
A team of Hero Cycles visited the Ludhiana College of Engineering and Technology (LCET), Katani Kalan, under the campus recruitment drive for mechanical engineers of the college recently and selected four students. Michael Sawney, Sahij Paul, Sumir Sharma and Jaspreet Singh Dhillon were selected in the final round of interviews.
Technical education to be job-oriented: Minister
Ludhiana April 18
Minister for Technical Education, Industrial Training and Social Security Chaudhary Swarna Ram has disclosed that the technical education system in the state would be completely revamped to make it relevant to the needs of the fast advancing technology in the industrial sector

Students of Tech Education and Industrial Training Punjab performs giddha on prize distribution of the sport meet and cultural function at Guru Nanak Dev Bhavan held in Ludhiana. Tribune photo: Sayeed Ahmed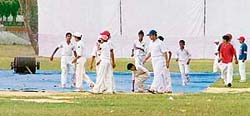 The pitch at Government College is covered as the tie between Ludhiana and Ropar in the Punjab State Inter-District Tournament (under -15) could not be held due to the rain on Wednesday. — Photo byInderjeet Verma
Student debarred from exam due to PU fault
Ludhiana, April 18
Kulbir Kaur, a private student of MA (I) history could not take her first examination, here, last evening. She was shocked to hear from the centre superviser that her roll number was not in the cut-list sent by Panjab University, Chandigarh, so she could not sit for the paper.
95 students donate blood
Ludhiana, April 18
Guru Gobind Singh Study Circle organized a blood donation, medical check up and tree plantation camp at the Guru Nanak Dev Engineering College, Ludhiana, here, on Tuesday. In this camp 95 students donated blood under the team of Red Cross Society, Ludhiana, whereas, as many as 265 students had undergone medical check up. The leading team of doctors, included Dr. H.S. Bedi Medicuty, Ludhiana, Dr. Urvesh Singh and Dr. Darshan Singh, Preet Hospital, Model Town Ludhiana and doctors of Krishana Hospital including many doctors of the city.