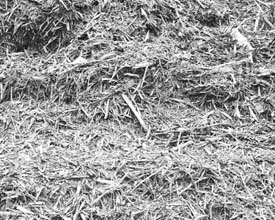 Taking electricity to the not so thickly populated, isolated rural settlements spread across the country from the central power grid has been found to be a costly and unreliable proposition on account of the heavy transmission losses and a poor load demand.
As such, energy experts have highlighted the need for going in for local specific, decentralised energy systems that can be sustained with the locally available resources.
Abundant availability of agricultural wastes, including bagasse, in the predominantly farming, rural settlements of India is a major plus factor for generating energy at the local level to meet the rural energy needs in an economically viable fashion.
According to the Ministry of Non-Conventional Energy Sources (MNES), there is more than 1,700-MW potential for producing gas from biomass, including agricultural residues, which can easily help power 1.25 lakh villages that are yet to be electrified.
Biomass gassification technology, which has been around for more than three decades, now has proved to be a cost effective, ecofriendly system to meet the rural energy requirements. In fact, biomass, gasification, which involves the production of producer gas — a mixture of carbon monoxide, methane, hydrogen and carbon dioxide is fast picking up in India as a major alternative energy source.
In the isolated Sunderban area of West Bengal, biomass based gassification plans are supplying power for lighting and pumping water.
Moreover, biomass can also be used for the production of heat and electricity. This process is called cogeneration. Cogeneration is feasible in the sugar industry, rice mills as well as paper and textile mills.
For instance, by upgrading the steam generation capacity of sugar mills, steam produced in excess of their process heat requirement can be utilised for power generation.
Meanwhile, in a development of significance Cummins India and the Bangalore-based Indian Institute of Science (IISc) have gone in for commercial tieup aimed at promoting the biomass gassification system designed and developed by IISc. According to Prof P.J. Paul of IISc who is one of the architects of this biomass gasification system, "our technology package known as Open Top Reburn Down draft biomass gassifier generates gas from a range of biomass that comprises forest residues, and agricultural wastes."
Indeed, as pointed by Paul, the cost of energy generated through biomass is reduced substantially through the gassification route.
Pampraveen Swaminathan, Vice-President of power generation business at Cummins India, drives home the point that the biomass gassification provides a significant life cycle cost advantage over hydrocarbon and ultimately leads to the development of a sustainable energy system.
It has been computed that biomass gassification generates 1 MW of power at around Rs 2-3 crore. On the other hand it costs about Rs 35-40 crores to generate 1 MW of power through the solar photovoltaic route.
India's first community based biomass gassifier power plant at Kabbigere, 30 km from Tumkur in Karnataka, is generating 0.5 MW of power to feed the central power grid and ensure round the clock, reliable power supply to five villages for both irrigation and domestic purposes.
As pointed out by Anil K. Rajvanshi of Nimbalkar Agricultural Research Institute (NARI) which operates a biomass gassification plant working on agricultural residues such as sugarcane leaves and wheat straw, India produces an estimated 600-million tonnes of agricultural residue per year.
He points out that if all this waste is gassified it can produce 79,000 MW of power — about 60 per cent of the total power available in the country. Says Rajvanshi, "It is feasible to set up a biomass based power plant of 10-20 MW capacity to cater to the needs of about 100 villages. In this way rural energy needs in India can be fully well met."