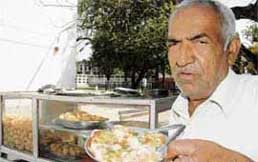 Bright college days
Parbina Rashid raises a toast to the days that were and the people who made college a better place
Years of being on the art beat in the city have driven me to one conclusion — our homegrown artists really dig into samosas. Wherever there is an exhibition, the inaugural function inevitably offers this triangular treat among others. I recently stumbled upon the reason for the samosa fixation when I tasted the chacha ka samosa. Every student and pass out of the Government College of Art swears by it. This is one place that besides instilling the love of art also develops one's taste buds to the pleasure of samosas. Lalaji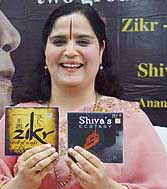 Mystical melodies
Gurumaa, a spiritual being with an unfaltering love of humanity, visits the city to enlighten and captivate the followers with her discourse and music, writes
S. D. Sharma.
Anandmurti Gurumaa' s virtuous teachings have assumed an altogether new secular dimension over the years. On her visit to the city, she released two of her latest musical creations. The albums are replete with blissful spiritual experience of two diverse genres of thought and philosophical formulations. The first album Zikr, submerged in the Sufiana thought and philosophical content features authentic sufi meditation from the land of Turkey. The soulful music opens with the call of heart and includes Wazzad, the divine union, Rooh –E-Parwaz, Tariqat and Jannat- the paradise; all depict the relationship of a seeker and preceptor.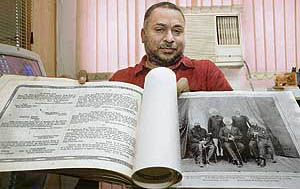 Booked for life
It all started with an Amar Chitra Katha comic. Simar Onkar was just about six years old when his father brought him one, but he was wise enough to know its value and preserve it. And thus was born a collector of great and rare books! Life gave him the taste of different stages, different professions—marketing, counselling to the executive director of Athenaeum Institute and finally the owner of his shop 'Great Books'. But his love for rare and unique books remained unchanged.
For Simar, collecting a first edition book is like watching a first day first show of a film.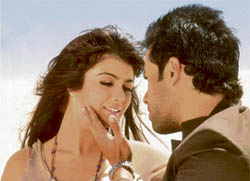 New Releases
Kya film hai !
Kya Love Story Hai
Cast: Tusshar Kapoor and Ayesha Takia
Tusshar Kapoor and Ayesha Takia starrer, Kya Love Story Hai is a feel-good romantic comedy. It focuses on love and its hurdles. Those who have sneaked the preview, says that the flick has a contemporary and slick feel. Ayesha once again plays the role of a girl next door. Debutant Karan Hukkoo supports the lead stars. The film has been shot in exquisite locales of South Africa. N R Pachisia and Adlabs have produced the light romantic comedy, after action packed thrillers like Apradhi. Ziddi and Haqeeqat.

Rise and fall of Sanjaya
Sanjaya Malakar, the under-talented but unflappable singer who horrified and captivated millions in his improbable American Idol run, was finally voted out of the singing competition TV show. When the result was announced on Wednesday night, Malakar wiped away tears and got a big hug from Lakisha Jones, the next lowest vote-getter. "I'm fine," he told Ryan Seacrest. "It was an amazing experience." "I can promise you: We won't soon forget you," Seacrest replied.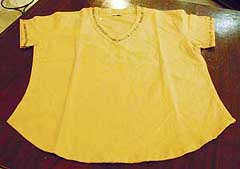 Kurti cotton ki
Tackle the rising mercury by dressing in elegant cottons, writes Purva Grover
If the heat is taking its toll on you, then it is time you redo your wardrobe. Put away synthetic and nylon clothing and move on to cotton wear. The mantra this summer with the city fashionistas is long flowing or knee length skirts and floral patterned kurtas, which allow the body to breathe. Keeping you cool, the cotton kurtis are surely the delight of summers. Elegant floral prints in hues of soothing shades are enveloping the market.
Photo by Pravesh Chauhan
S.O.S. for nature
IT is not just another photographic exhibition, which leaves you feeling good. Here 16 huge panels come with hard-hitting facts in the form of text and pictures one would like to forget. But they are effective enough to imprint themselves in one's mind and spark a little soul-searching—are we actually doing enough to save our environment?
Dream-like reality
Subhash Sapru captures the vibrancy of people & places
SUBHASH SAPRU likes to define life as water and memories as ice-cubes in a mould tray. He cannot be farther from the truth. For, life may be a stream of flowing water, carrying him around places, but as far as memories are concerned, his are nothing like the dead ice-cubes. In fact, they are well-composed photographs, each telling an eloquent tale. It's been years since we had last seen his photographs on Gujarat earthquake. It made news that time, labelling Sapru as a photojournalist who had the sensitivity to capture a tragedy without hurting the feelings of both victims and viewers.
SIDELANES
A catalyst for religion
Dan Brown's writings have raised questions, fuelled controversies and jeopardised existing institutions. The debate created by The Da Vinci Code will continue for long. The author's writing capability is not being questioned here. His viewpoint is. He will find himself ostracised, admired and sometimes shunned. However, whether his writings are factual or fictional, his greatest gift to literate humanity has been to stimulate and question existing norms and rituals.
Youth speak


Strikes – for how long?
The rights given to us are. misused by the citizens. The right to speech and assembling is misinterpreted and we go for unwanted strikes, which in most of the cases lead to violence and chaos in the nation. Our student community has specially accepted strikes as an effective panacea for every ailment. Often, we have seen a concerted refusal of students to attend classes and the staging of massive dharnas if they want their demands to be met.
---