Farmers told to use fertilisers judiciously
Amritsar, April 20
A seed treatment campaign was organised at Doburji village, which has been adopted by the Krishi Vigyan Kendra, Usman, by assistant professor (plant protection) Parminder Kaur under the guidance of deputy director of the kendra Sat Pal Saini for the benefit of farmers.

'Encroachments will go'
Amritsar, April 20
Kunwar Vijay Partap Singh has taken over as Senior Superintendent of Police. Talking to The Tribune, the SSP said that he had held a series of meetings with the senior police officers along with the subordinate staff to iron out a draft proposal for removing snarls which had created a major nuisance on the roads, especially leading from the GT Road, near the bus stand, towards the Golden Temple and near the railway station. SSP Kunwar Vijay Partap Singh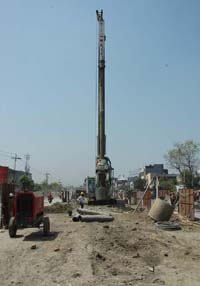 Here chaos is order of the day
Road project work has left commuters a harried lot as mismanagement is causing huge traffic snarls on NH everyday
Amritsar, April 20
The ambitious elevated road project has become a source of inconvenience for scores of commuters taking the national highway everyday. The roads on both sides of the upcoming elevated road are potholed and mismanagement of traffic leads to frequent traffic bottlenecks. The Rs 173-crore project would provide devotees a shorter link to the Golden Temple and the Jallianwala Bagh Memorial. Work on the project is under way and Rs 20 crore has already been spent on its construction.

Work on the elevated road project has become a headache for scores of commuters. — A Tribune photograph
School row: Rivals trade allegations
Amritsar, April 20
Some unscrupulous elements are trying to grab the property of Shri Ram Kanya Mahavidyala Sabha (SRKMS) by forcefully occupying the school premises.
Prosperous Punjab
GNDU urges govt to frame new agri policy
Amritsar, April 20
The Punjab government should frame an agriculture policy by setting up a committee of agricultural experts, politicians and representatives of the farmers as lack of agricultural planning was responsible for the present plight of farmers in the state, said Dr R.S. Bawa, registrar, Guru Nanak Dev University).

Kids dazzle at cultural meet
Amritsar, April 20
A cultural programme was organised by the Service Club in the summer palace of Maharaja Ranjit Singh with a view to bringing out talent among the children. Children in the different age groups gave excellent performance in singing, both vocal and instrumental, and dancing.

Tabla artiste Agam Shingari
MC likes to dump garbage at grain market
Amritsar, April 20
Right in the middle of the grain market, there exists an unofficial dumping ground of the Municipal Corporation, spread over around three acres of prime land.


Everyday truckloads of garbage is thrown right in the middle of the grain market. — Tribune photo by Rajiv Sharma
Faith Factor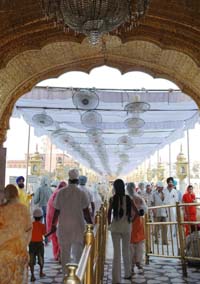 Devotees pay obesiance at Golden Temple on Friday. — Tribune photo by Rajiv Sharma
'Ecological degradation will spell doom
Amritsar, April 20
Excessive exploitation of natural resources is nothing but our invitation to doom. This was said by Lieutenant General Noble Thamburaj, GOC, Vajra Corps, while delivering a lecture during a two-day seminar on `Biodiversity and Environmental Management'. The event was organised by Panther Division, Amritsar.
Milk testing camp
Amritsar, April 20
To create awareness among the consumers about milk and milk products, a free milk testing camp was organised at the Sultanwind Road and at Kabir Park near Guru Nanak Dev University.