Double whammy!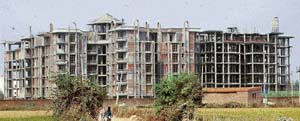 Chandigarh periphery builders go panicky as rising EMIs combined with change of land use imbroglio hit them hard, says Pradeep Sharma
The recent decision of the Punjab Pollution Control Board (PPCB) to cancel the change of land use (CLU) of prominent builders on Chandigarh's periphery, following interim decision of the Punjab and Haryana High Court has sent builders, investors and end-users in a tizzy.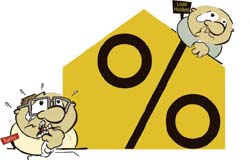 Sour loans
Non-performing assets start mounting for banks, notes S.C. Dhall
Realty loans, once attractive for banks across the country, are now turning sour as a whole as non-performing assets (NPAs) start to mount.
Pinching instalments
Next two months crucial for the market, comments R. Suryamurthy
Owning a house is the dream of many. But with interest rate moving northwards, the dream appears to be a mirage. Even those who had taken the risk a couple of year ago in buying a house with bank loan, now find themselves burdened by the growing EMI pressures.
Welfare scheme for Gurgaon
Ravi S. Singh comes across a proposal to set up 1 lakh economically weaker section units
The Haryana government is considering a proposal for the construction of one lakh EWS housing units in Gurgaon, which will be low cost and affordable for the lower strata of the society. If accepted in toto or even partially, putting the project on ground is expected not only to stir up the real estate circles, but also contribute towards arresting the spectre of jhuggi-jhopri clusters.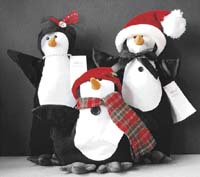 ACs that gel with interiors
Saurabh Malik talks about beautiful cooling solutions for homes
As the temperatures mount steadily, the heat is on among the consumer-goods manufacturers to provide with elegant cooling solutions for 'hot' apartments of your dreams.
Buzz on Bourses
Emaar-MGF take majority stake
Mumbai: Dubai-based Emaar Properties and Indian real estate developer MGF group have acquired a majority stake in Singapore-based retailer RSH Ltd, the companies said in a statement.
TAX tips
Foreign citizen can't buy farmland in India
Q. My son is a Canadian citizen holding PIO Card. (dual citizenship). Please inform whether he can purchase immovable property or agricultural land for residential purposes in India from his NRE account.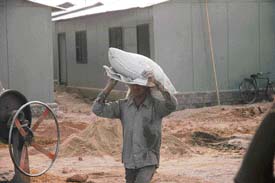 GRound Realty
Build a base
Jagvir Goyal talks about strong foundation and excavation techniques
Foundations constitute an important part of a structure. Foundations are the anchorage and when Mother Earth grips them, the part protruding above the surface of earth, called superstructure, becomes stable.
Awkward dimensions
Owners carve out plots of all sizes and shapes to reap maximum profits, says Rakesh Lohumi
Haphazard construction has been the bane of hills. It has not only marred the scenic charm of the hill stations like Shimla, Manali and Dharamsala but also created a plethora of problems for the residents. The Town and Country Planning Legislation was enacted with a view to regulate construction activity in the state but provisions are observed more in breach.
Maspar's strategy
Home furnishings company Maspar Industries Private Ltd is in talks with Reliance to retail out its products through their high end retail formats.