This Above all
Dropping names like bricks
Khushwant Singh

IT is an art practised by most ambitious people who want to appear more important than they are. It has become so common that everyone can see through it and can be better described as a cheap ploy and an unsavoury habit. I have many amusing examples of this fake art.
I had a friend in Bombay (it had not yet become Mumbai) who was great champion of the poor and the downtrodden. And like many Leftists of the ilk, lived in a style which was the envy of the richest of the rich. He was a party-giver; I was occasionally invited as I had known him in my college days in England. When all the guests were seated round the dining table, his telephone would ring. His wife would take the call. She came back, tapped her husband on the shoulder and said: "Call from Delhi; the PM is on the line." He would get up solemnly and apologise: "Excuse me, ladies and gentlemen, Iíll be back in a minute. Please carry on." He would rejoin us after a few minutes looking very concerned and say non-chalantly: "Sorry to interrupt your meal. Yes, what were you saying?"
Prime Minister-on-the-phone antic has become very popular. It can as well be the President, CM, Governor, Birla, Tata or Ambani on the line, depending on who the name-dropper wants to impress. I came across a more sophisticated form of the same approach in Delhi. There was a dapper little fellow who was a minister in Mrs Gandhiís Cabinet. The race was on over which one of her ministers was closest to her. This fellow evolved an ingenious plan to spread the rumour that he was her favourite number one. At every diplomatic dinner party while the guests were enjoying their meal, a measage would be delivered to the host to tell the minister to call at the Prime Ministerís residence on his way back home after dinner. As he anticipated, the rumour spread in Delhiís gossip circles. The first thing Mrs Gandhi did when she heard of it was to sack the minister.
The most outrageous name-dropper was again a self-proclaimed champion of the impoverished millions. He lived mostly abroad but visited his poor homeland every winter. He drank only an expensive brand of whiskey. Once at the Gymkhana Club he asked his friends: "Arenít you concerned with the plight of the hungry millions who sleep on pavements?"
This was a bit too much. I shot back: "Who are you to talk? You live in luxury suites of European hotels; why donít you return home and do something for the starving millions your heart bleeds for?"
"Good question;" he replied with condescension. "The same question was put to me by Indu.
"Indu? Who is Indu?" I asked.
"You donít know? Indira Gandhi. I call her Indu."
The latest to my list of name-droppers is a lady who I have known over 40 years and helped add new names of eminent men to her unending list of names worth dropping. She also likes to cut me to size. The other day I was telling my mehfil of an odd gift and an odder blessing his holiness the Dalai Lama had sent me; it was a raakhi-like red string with the blessing that I may have a peaceful death. "Never!" shouted the lady, "It cannot be true of the Dalai Lama. He would never say such a thing. I know him very well."
I could not help giving it back to her. "No doubt you were studying in the same school in Lhasa."
Desi sahibs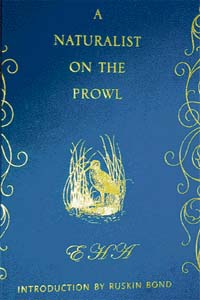 Indiansí notion of the British when they were rulers of the country made them out to be an arrogant race who disdained making friends with "natives", had their "whites only" clubs and returned to England the day they retired from service. However, there were scores of Englishmen who went out of their way to befriend Indians, refused to join "whites only" clubs, and even after they returned to England kept in touch with their Indian friends. I knew many of this kind and still cherish their friendships. I am beginning to discover that there were many of this breed I had never heard of. Thanks to the initiative taken by our own desi sahib Ruskin Bond, two compilations of articles written by a Scotsman, Edward Hamilton Aitken, for The Times of India, then owned by a purely sahib company, Bennet Coleman, have been published by Penguin-Viking (India): The Tribes on My Frontier & A Naturalist on the Prowl. The author was evidently a shy, withdrawn person who never used his full name but only the initials EHA.
Aitken was born in Satara (Maharashtra) in 1851. Son of a Scottish missionary he was taught at home by his father before he went to Bombay University. He was a topper throughout, and after earning his degree, taught Latin in Deccan College, Poona, for six years (who wanted to learn that dead language is not revealed). Thereafter, he joined government service as a Salt and Customs Officer. After a short stint in Kutch he was transferred Khargodha (in his writings he called Dushypore) and scoured forests of the Konkan region studying wildlife. His columns deal entirely with birds, butterflies, caterpillers, beetles, spiders, monkeys, jackals and panthers. Although he married a Scotwoman and had five children, he never wrote a word about them. He left India with his family in 1906 to settle in Edinburgh where he died in 1909. Apart from his abiding interest in nature, he had no other pre-occupation. Apparently, he was a medium-sized, slenderly built man, wore a solar topee and sported a beard.
EHAís prose is felicitous with a touch of humour. He makes grisly crawlers like earthworms, caterpillars and spiders come alive. He rarely, if ever, used his gun or killed anything. He has spine-chilling taste for an encounter with a panther which mauled him and his companions before he shot it dead. At the end of the story he writes that he made it up as most shikaris do to add spice to their stories. Both books are a joy to read.
Kirkit adsmen
Sehwag ko Mayur pehnao, Sachin ko Pepsi pilao Dhoni ko Brylcreem lagwao, Ganguly ko Chavanprash khilao, Dravid mein Castrol bharwao, Yuvraj ko malai marke lassi pilao! Lekin ó bus unko cricket mat khilao.
Contributed by J.P. Singh Kaka, Bhopal