Mistresses of
Crossover Cinema

These three Punjabi women have done cinema proud. They have taken Bollywood to the world and brought the West to Bollywood. Their films, exploring human mindscape and relationships in a variety of socio-cultural settings, are a hit with both western and Indian audiences.
Randeep Wadehra reels off the acclaimed contribution of film-makers Mira Nair, Gurinder Chadha and Deepa Mehta to cross-cultural cinema
THESE three women have managed to straddle the cultural twain: Amritsar-born Deepa Mehta, Bhubaneshwar-born Mira Nair and Nairobi-born Gurinder Chadha are highly talented film directors, producers, writers and actors. What sets these three apart from their peers is the fact that they are Punjabi women who have successfully spanned the East-West civilisational fault – as far as cinematic sensibility and creativity are concerned. Their works are watched, understood and critically acclaimed as much in India as in the West.
One can have some idea of their calibre if one takes a look at the awards they have won. Mira Nair's works, apart from nominations to BAFTA and Oscars, have won Golden Camera (1998), Silver Ribbon (1992), New Generation and Lilian Gish Awards (1998), as well as Golden Lion (2001). Deepa Mehta bagged the 2006 Genie Award for outstanding achievement in cinematography, Golden Kinnaree Award at Bangkok International Film Festival (2006), The Silver Mirror (2006) etc, along with the recent nomination to the Academy Awards for Water. In addition to being nominated for Writers Guild of America's best original screenplay award in 2003 (Bend it like Beckham), Gurinder Chadha's contribution to cinema was recognised with the OBE decoration by the British government in June 2006.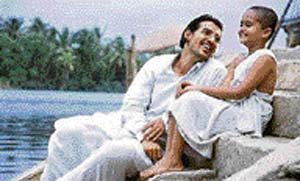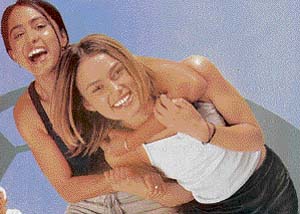 FILMS WITH A MESSAGE: Stills from Deepa Mehta's Water (top) and Gurinder Chadha's Bend it like Beckham (above)
The trio is equally comfortable while making movies, telefilms and documentaries for Indian as well as western audiences. Nair has made flicks like Salaam Bombay, Mississippi Masala, The Perez Family, My Own Country, Hysterical Blindness, Kama Sutra, Monsoon Wedding, Vanity Fair and The Namesake to name a few. Mehta's better known movies include At 99: A Portrait of Louise Tandy Murch, Sam & Me, Camilla, The Republic of Love, Bollywood Hollywood, Earth, Fire and Water. Some of the better known productions from Gurinder Chadha's oeuvre comprise The Mistress of Spices, Bride and Prejudice, Bend it like Beckham, What's Cooking?, A Nice Arrangement, What Do You Call An Indian Woman Who's Funny?, Bhaji on the Beach and Acting Our Age.
The three film-makers have explored human mindscapes and relationships in a variety of socio-cultural environments, which are generally alien or oppressive or both. You get a rather detailed look into the world of the marginalised or the outsider in movies like Salaam Bombay (street children), Earth (Lenny, the Parsi girl) and Water (the exploited widows). You get a glimpse of inter-racial relationships in movies like The Mistress of Spices, The Namesake and Mississippi Masala. Quite a few of the movies are about adaptation and adjustent to alien cultures or individuals from different backgrounds.
In Bend it like Beckham, Jasminder Bhamra feels more British than Indian and wants to play football like her peers such as Juliette. But her mother forbids her. In the ensuing struggle between the subcontinental orthodox mindset and western liberal values, the latter win as her parents give in to her wishes. Simiarly, in The Namesake you find Ashok and Ashima – married according to Bengali traditions – trying to adjust to their children's lifestyle, especially son Gogol's American way of living. In turn Gogol too has to come to terms with the relative frailty of love relationships in the western milieu — be it his affair with the American Maxine or marriage with the Indian Moushumi.
But, the movies are not just about families caught in the vortex of cultural differences. There are individuals outside families too who adapt to 'the other' in order to minimise the effect of cultural clash. For example Sam & Me focuses on the equation between a Muslim boy and an elderly Jew living in Canada.
Another striking feature of the trio's works is predominance of female protagonists and their strong characterisations. Whether it is the neglected Sita and the abandoned Radha coming together in quest of love (Fire), the domineering Madhumati, the innocent imp Chuiya, the yearning-for-freedom Kalyani (Water) or Tilo, who is torn between her love for Doug and the call of the spices, all these characters leave more than a lingering impression on one's mind. Moreover, humour, mischief and joy do make an appearance in most of their movies.
However, there are differences in the manner in which the three film-makers treat their subjects. Chadha uses lots of colour that exudes energy. If you remember the rather vigorous dance sequence in the bazaar in Bride and Prejudice you will recall the frisson it triggered off in your entire being. Even in The Mistress of Spices or Bend it like Beckham you hardly find any gloomy ambience although colours are relatively muted in the former.
You can say the same about Nair. She, too, prefers bright ambience for her movies. This is not to say that the two are unmindful of the narrative's tenor or that they lend artificial hues to the general mood and texture. The end product of their efforts is eminently authentic. Mehta, in contrast, has not hesitated while employing sombre colour and complexion — you notice this especially in the 'elements trilogy' Earth, Fire and Water. Then there is the matter of cinematic metaphor — rains, for example.
Ever since its inception, the Indian cinema has been using rains to portray sensuality, joy, celebration and rejuvenation. However, in Monsoon Wedding Nair uses this device to depict something more than joy and celebration. Rain also becomes the symbol of the coming together of different classes, as the well-off mingle with their minions in a communal rain-drenched dance. More importantly, it is a happy aftermath to Shefali Shah's angst-ridden outburst against her paedophile 'Tej Uncle'.
In Water, on the other hand, rains bring in transitory, nay illusionary, joy in the lives of Kalyani and Chuiya. When the two dance in the room as it drizzles outside, you are filled with sympathy for them, for you instinctively know that their fate has already been sealed by society. Here, the rainfall is more a symbol of hope-amidst-hopelessness than an expression of sensuality.
Mehta also employs light and shade to effectively communicate with the viewers. For example, in the climactic scene in Water Shakuntala places Chuiya into Narayan's hands as the train moves from the rather dark platform towards the sunlit world beyond. You realise that at least the widowed child has escaped further molestation at the hands of upper-caste landlords for whom widows are nothing more than sex objects.
Come to think of it, things haven't changed much since 1938 if one takes a look at the plight of abandoned widows in Varanasi and Vrindavan — the legend at the end of the movie is a stark reminder of this enduring blot on our society. Contrast this with the movie's beginning — Chuiya travelling with her husband and in-laws amidst verdant greenery. The grey colours suddenly obliterate all brightness when she becomes a widow. Dark shadows play on her expressionless face as her locks are shorn off.
While watching their movies, you tend to forget the language in which these are made – Hindi, English or Hinglish, and ignore the nationality, ethnicity or cultural identity of the characters. The imagery is so powerful and lucid that you tend to get involved with the flow of the narrative. Truly, Mehta, Nair and Chadha are the MNC of transcultural cinema.