Iím charged up about Shantaram: Mira Nair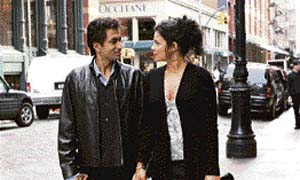 CROSSING BOUNDARIES: Kal Penn (Gogol) with co-star in The Namesake
NRI filmmaker Mira Nair says itís a sheer coincidence that her films Vanity Fair, The Namesake and the ready-to-shoot Shantaram are based on bestsellers. The recently released The Namesake is based on Jhumpa Lahiriís novel of the same name, and Shantaram, for which Nair has roped in Johnny Depp and Amitabh Bachchan, is a screen adaptation of Gregory David Robertsí book.
Nair is excited about Shantaram because she will get to shoot it in her favourite city, Mumbai. Excerpts from an interview with Subhash K. Jha.
Youíre next getting into another big one, Shantaram.
(Laughs) Yes, Iím very charged about it. When in June 2006 Peter Weir left the project, the Warner Brothers, who had approached me for the Harry Potter film, called me. Itís a big project. Not like you make a phone call and you get Shantaram. They sent me the script in confidence and warned me other directors were being considered. I went off to Kampala where Iíve a home and a film school, for the summer. There I read the book. When I returned they requested for a private screening of The Namesake. They liked the film. We met in October. By then I was completely immersed in the book and its concept. I knew it thoroughly. Itís the same territory as Salaam Bombay. Itís set in my beloved city of Mumbai. Shantaram is set in the 1980s of Mumbai at a time when I was in the city.
And how should it be done?
Itís about time we got Mumbai and India right. Who needs another City Of Joy here? Authenticity is very important to Shantaram. And the producers feel I can deliver. I guess itís my love for Mumbai city, my knowledge of the script and their fondness for my work that clinched the matter. And of course Johnny Depp felt Shantaram was in secure hands.
Howís Johnny Depp?
Oh, for all the stratospheric box office status heís a humble soul. Heís generally inquisitive about the world. He considers Shantaram his Bible. You know, Russell Crowe and Brad Pitt were also very keen.
Bachchan is very impressed by you.
By chance he was there for the first screening of The Namesake in Mumbai. Everyone was transported... the response was overwhelming. Heís overwhelming in Black and Sarkar. The best part is he loves to act. He still enjoys the process. I can close my eyes and see him and Johnny together.
And Kal Penn?
He was a comic star before The Namesake. Itís a groundbreaking role for Kal. Iíve to give my 15-year-old son credit for my signing Kal. He loved Kal for Harold & Kumar Go To White Castle (a teen film). Then Kal wrote to me and urged me to see his work. What really won my heart was when he said he saw my Mississippi Masala when he was eight years old in a mall in New Jersey. He was amazed to see people on screen who looked like him. Then he also said The Namesake was his favourite book, and he empathised with the part of Gogol. He flew in on his own from LA to NY and auditioned. Every aspect of his personality seemed correct for him to play the American desi. I allowed him to speak the way he does because thatís the right accent for Gogol.
Your last three films are based on works of literature.
Thatís just a coincidence. Iíve equally enjoyed doing original screenplays like Salaam Bombay and Monsoon Wedding. So, Iím not pursuing the bestsellers of the world (laughs). Itís just that the stories in The Namesake and Shantaram possessed me. Iím developing an original screenplay about the war in the world...about the Iraq war etc. Right now itís just an idea.
Where do you place The Namesake in your oeuvre?
This one...Iím totally happy with it. The synergy came together. This film was in a deep way inspired by personal grief. I went through that for the first time in my life. I lost my mother-in-law, who was like a mother to me. She died unexpectedly of medical malpractice in NY. We were suddenly burying a woman we loved. The finality of death got me. The Namesake comes out of the needs and the commitments of family life. I made it entirely for myself. Jhumpa Lahiriís novel distils grief and also represents the power of living in two worlds. I have lived in Kolkata and Manhattan. In one city I was an actor in political theatre, in the other I became a filmmaker. I think I was qualified to make The Namesake. It gave me an opportunity to unite the two cities.
Are you okay being an NRI filmmaker?
Iíve three fully functional homes in Delhi, Kampala and Manhattan. Iíve my whole community in Delhi. I give the airlines some serious business. This year Iím in India a lot. (The character) Shantaram goes to three continents. But itíll be shot mostly in Mumbai.
People think youíre making a film on the life of the filmmaker V. Shantaram.
Yes, my entire community thinks so. A photographer-friend sent me an image of V. Shantaramís studio. I sent it to Johnny telling him, hereís the Shantaram in our life. ó IANS