Corporate wear
Designer business now
With people spending more time at work than at home, fashions are entering corporate corridors, says Nutan Sehgal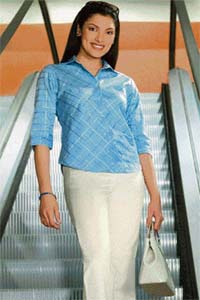 FAIR PICK: Women are opting for comfortable western wear
MOST designers say that the modern Indian executive is finally ready to break the shackles and show that when it comes to a choice of clothes, he can be as choosy as a woman and can make as much effort to be smartly turned out.
The formality is now being replaced by a degree of casualness. Designers are creating clothes that are striking but not loud. The casuals and formals are being merged and the future will be more an expression of a person's style and his position at the workplace.
Upcoming designer Vinita Prakash feels that for women the ideal corporate or office wear would be a pair of smart trousers and a matching top. She says, "I would always advise people to go in for chic western clothes to work as they are simply unbeatable."
This season the designer has in store soft, pastel shades. Bootleg pants combined with a loose shirt are also ideal for a casual and cool day in office.
In fact, if you are looking for the right western outfit, check out the latest range from Wills Lifestyle and Allen Solly. The collections are distinctly European and have a blend of softer silhouettes and delicate detailing both for men and women.
Soft silhouette
For men, this season the workplace will be dominated by a softer silhouette compared to the 'power' dressing of the earlier trends. Says leading designer Ravi Bajaj, "Fashion-conscious people these days want to look different. This is a good trend as they come to you with a more definite mindset as to what they wish to wear to work."
Over the past 15 years, Bajaj has been presenting collections which are style statements, but not so strong as to overshadow the wearer's personal style. The designer advises that while choosing clothes for officewear, one must keep in mind that there is a harmonious blend of creativity and wearability.
Stylish look
As in the West, this year Indian designers are going in for a sophisticated look: trendy officewear in newer fabrics that are masculine but not overpowering. The underlying message is practicality and style.
"Clothes have got to be comfortable and a little easy. The idea is to merge both the casual and the formal. Nowadays, clothes are not indicative of your status but of your state of mind," says Delhi-based designer Amar Jyot.
Choice of accessories
If clothes are fast becoming the best form of non-verbal communication, the same holds true for accessories too. The right watch, cufflinks and tiepins would be as important as the choice of belts, shoes, shirts, jackets and trousers.
Shiny ties, or ones with bold graphic designs are a definite no-no, especially if you are in a conservative field like medicine, banking, marketing or accountancy. Belts, too, should be stylish but never loud. Cufflinks, tie-pins and suspenders have made a comeback for the trendy male.
Suit yourself
Model-turned-entrepreneur, Vinny Backliwal feels that even if you are in a less strict environment, it makes sense to have a professional look about you. She says, "You interact with so many people in a day that it's important to look professional at all times, yet stay comfortable."
Experts say that the current trend in corporate wear is moving towards being more accessible, friendly and individualistic.
So, don't always go with the flow. Do make your own rules too. There's an old saying -"Dress for the job you want, not the job you have". So go ahead and bring some pizzazz to your workwear and make an impact in the boardroom. — NF


Shirt styles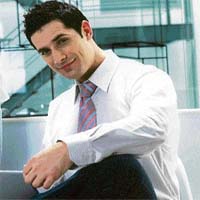 WHAT'S IN FOR MEN: Masculine but not overpowering office wear
The understated elegance of Oxford weave is one that appeals to the maximum amount of the world's corporate people. Legendary men's designer Ralph Lauren is credited with taking the Oxford weave to the masses.
The option that is the most popular in India is pinstripes. The range of colours and width of stripes is enormous; some are beautiful, while some totally garish.
Finally, there is the traditional tattersall pattern that has horizontal stripes of one colour and vertical ones of another forming half-inch checks on a white or cream. They provide an aura of casual sophistication.
Some no-nos
Of course there are a few absolute no-nos as far as shirts are concerned. For one, never wear a heavily patterned shirt to business meetings.
Never should your shirt have more than one pocket. Never should it be body-hugging as this restricts activity and, in a hot country like India, is uncomfortable.