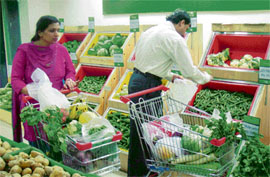 Consumers are sure to be spoilt for choice as shopping for fruits and vegetables, milk and dairy products becomes a hassle-free experience. Ruchika M. Khanna looks at the impact of these retail marts which are fast coming up.
With the entry of corporates in the agri-retail business, this sector is fast evolving from the weekly market format to convenience stores, current day malls, supermarkets and hypermarkets.
A people's artist
The most popular painter from Punjab, Sobha Singh drew pictures of Sikh Gurus that abide in the hearts of millions. Subhash Parihar writes about his discovery of the master's two paintings recently.
Sobha Singh (1901-86) is undoubtedly the most popular painter from Punjab. So much so that for common Punjabis, his very name has become a synonym for the word artist.
Haunting ruins of Ross Island
During British rule, Ross Island in the Andamans boasted of luxurious amenities like clubs, dance halls, swimming pools, open-air theatre, and splendorous gardens. Today the island, reports Tanushree Podder, resembles a ghost town with crumbling structures and overgrown vegetation
Treat for the taste buds
Trilochan Singh Trewn
When years ago we docked in northern Poland shipyard for repairs, we found that the foreman looking after jobs of our ship was residing in a chocolate manufacturing factory on the outskirts of Gdansk port. His wife was a supervisor in the chocolate factory. We were amazed by the variety of chocolate bars the foreman used to bring as part of his lunch box daily.
'A good script is vital for comedy'
Abhay Deol is elated with the success of Honeymoon Travels Pvt Ltd.
Vickey Lalwani met the actor to find out about his forthcoming film Ek Chalis Ki Last Local and more.
Triumph and tragedy
Guru and Citizen Kane share a common theme: men, fated to rise rapidly to prominence by bartering their souls, are eventually doomed. Rahul Sahgal looks at the similarities and the contrasts between the two films.

'I don't take an actor for emotional reasons'
Ram Gopal Varma is not having an easy time in Bollywood. Vickey Lalwani chats him up on the reasons for the downslide

Poorly told tale
Norbit is 110 minutes of oversized boredom. One Eddie Murphy is bad enough. But he wants to give us many more for the price of one, writes Ervell E. Menezes