Street smart
Purva Grover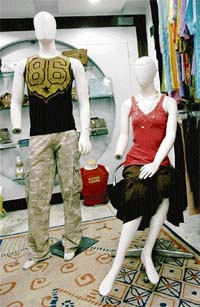 Are you one of those who travel to Delhi over the weekend for shopping? Undoubtedly, one would agree that the easy bargain lanes of Janpath and Sarojini Nagar do make up a fashion freak's paradise but then fashion huts in the city, too, are not far behind. So before you head for Delhi next, do check out these shops. Life Style shows the way.
Go casual
An extension of the popular export house, Just Casuals in Sector 9 stands true to his tagline, 'Original International brands at lowest prices'. It stocks brands like Mango, Cheroke, Tommy Hilfiger, Guess and Banana Republic all under one roof.You can pick up a cotton T-shirt for just Rs 80 and a hosiery cotton top for Rs 140. For an evening with friends pick up a sporty T-shirt, and for a weekend party tube tops are perfect.
Price range: Rs 80 onwards
A wardrobe to die for
Shelly's frequent trips to south-east Asian countries brought home the idea that she wanted to see the city fashionistas attired in chic designer wear. Handpicking each outfit from there, it is her collection that has made her Shelly's Wardrobe in Sector 8 a must stop for every party–hopper. "While the women love to dress in beautiful clothes, they are not ready to spend a bomb shell for it," smiles Shelly. Short cropped jackets, shimmered kurtis, trendy tube tops and party wear tops with a bow and a belt, she has it all. But, ruling the roost here is the dazzling variety of skirts. A must buy are the long dresses in chiffon and net. Also, on offer is funky jewellery, ballerina shoes and bags.
Price range: Rs 160 onwards
Outlet to the world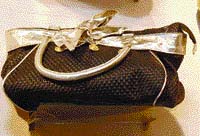 If you are one of those who sit glued to Fashion TV (FTV) just to catch a glimpse of the latest collection being unveiled by the newsmakers in the world of fashion, then this tiny fashion rack, called fashion Outlet in Sector 8, might interest you. Stocking the most recent collection of Europe and America, this store has picked on with the brand conscious. Stocking international brands, the collection is not aimed at dazzling party wear but trendy chic weekend clothing. You can pick up a T-shirt by Mango for just Rs 290, which would cost you 60 Euros abroad. The store stocks spaghettis, formal tops, chiffon kurtis, and long flowing summer dresses for the girls; and shirts and T-shirt for the men.
Price range: Rs 100 onwards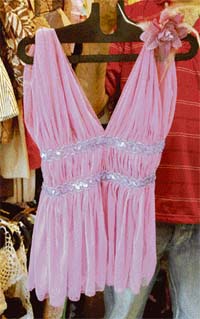 Campus bazaar
Bazzare in Sector 14 is for the college-going youth, you can walk out from the store with lots of shopping bags without making a dent on your monthly budget. Sphagettis in bright floral prints and plain colours adorned with sequins come at just Rs 100. Pick up a chiffon top with lace work for Rs 250, and a satin scarf for as little as Rs 50!
Price range: Rs 100 onwards
Check this out
One step inside and you know why Style Chek in Sector 17 has a steady following. Stocking about every style, the six-month-old store has people dropping in even from Delhi. "It is a smart casual store," says Anju, the owner. You can rev up your wardrobe with brands like Armani, Old Navy, GAP and Banana Republic among others; and, what's more the store informs you of their latest collection via SMS.
Price range: Rs 125 onwards