A local lawyer was taken aback to get an international call from an old friend the other day. The motive was not less than to get his servant pardoned for flouting a traffic rule. While the man could have got free by paying a fine of a few hundred rupees, this NRI had something else in his mind. Our lawyer knew a senior traffic police officer, who could get the challan pardoned.
No check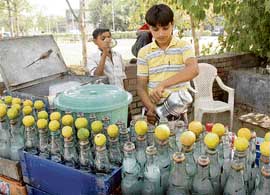 Summers have set in and so have related diseases. But the district administration and the health department are yet to wake up to the reality. Kiosks, selling eatables that spread diseases, are dotting roads and there is no check. Cut fruits, different coloured ice candies and different kinds of drinks are being sold by the roadside. Whether the authorities concerned do something in this regard remains to be seen.
Road rage
A local resident, known for indulging in road rage, was pleasantly surprised when a villager begged his pardon for flouting a traffic rule in his own simple and subtle way. The villager, who was on a scooter, was coming in the wrong direction. This resident had just given him a dirty look that he came out with his ready reply while stopping, ''Oh maaf kar diyo ji. Mainu tan pata nahi si ke iss side ton scooter nahi ja sakde.'' And the resident decided never to charge at people flouting traffic rules and indulge in road rage.
New government
With new government in the state, mediapersons are dealing with a strange problem arising out of the change. Suddenly, old complainants in various cases have come alive, thinking the former government did not do anything in their case and hoping that the new authorities would listen to them now and get their complaints redressed. Every day media offices are flooded with old complaints written afresh.
Begging continues
Beggars are a common sight in the city. However, a recent manner of begging has made people scared. In areas around Ghumar Mandi, some beggars are being spotted carrying a sleeping child, covered with a cloth and the person carrying them howling. The one who carries the child seeks alms, saying the child is unwell. But the very sight is horrifying, particularly for kids. Probably none in the administration even gets to see them as that precisely could be the reason for this continuing menace.
Attractive schemes, taxes
Inclusion of various services under service tax was resented by those in business. The fact is that the load is ultimately passed on to buyers only. Earlier buyers complained that services in restaurants, beauty parlours etc had become costlier. Another trick being found irksome by city residents is advertisements offering products at attractive rates. Consumers are fooled into going in for such purchases, as a 12.5 per cent tax increases the rate of an item, priced at say Rs 1000, by Rs 125, a fact which the advertiser never mentions!
Contributed by Kanchan Vasdev, Jupinderjit Singh and Shveta Pathak