UP for grabs 2007
46 pc vote in fourth phase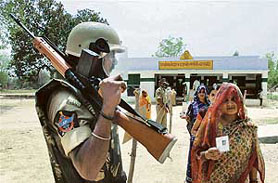 Lucknow, April 23
An estimated 47 per cent of 1.57 crore voters exercised their franchise today in 57 constituencies spread over 10 districts for the fourth phase of the Uttar Pradesh assembly elections in peaceful polling under an unprecedented security cover.

SECURING BALLOT: Villagers come out of a polling booth after casting votes in Barabanki district of Uttar Pradesh, on Monday. — PTI photo


In video (56k)
PM highlights Maulana Madani's vision
New Delhi, April 23
Underlining the need to curb the dangerous practice of using religion to divide people for electoral gains, Prime Minister Manmohan Singh said today that all measures for the welfare of Muslims are centred around equity, justice and fair play.
Business from dead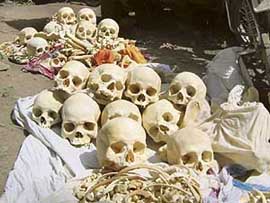 Human skeleton trade racket busted
Kolkata, April 23
The police has busted a racket of human skeleton trade byway of excavating bodies from burial grounds and also smuggling these out of morgues in which some doctors and technical staff of government hospitals are allegedly involved.
Human skulls and bones are seen inside a police station in Burdwan town, 200 km north of Kolkata, on Monday. — Reuters photo
Geelani's demands
BJP hits out at Centre
New Delhi, April 23
The BJP today took a serious view of Kashmir separatist leader Syed Ali Shah Geelani's public demands for self-determination and complete demilitarisation, and held the UPA government responsible for these kind of demands.
SP all set for non-Cong, non-BJP front
Allahabad, April 23
With five prominent regional parties joining hands and pitching for a political alternative, a significant step was taken under the stewardship of Samajwadi party national President Mulayam Singh Yadav in forming a larger non-Congress, non-BJP third front focusing sharply on the next Lok Sabha polls.
Abducted FCI official alive, says police
Guwahati, April 23
The Assam Police today claimed that the abducted FCI executive director, Dr P.C Ram, was alive and it knew the area where he was being kept as a captive by the ULFA militants.
Jessica Case
Justice Sodhi gets anonymous letter
New Delhi, April 23
Delhi High Court judge Justice R S Sodhi, who headed the Bench convicting Manu Sharma for the murder of the ramp model, today disclosed in the open court that he has received a letter detailing nexus between investigators, lawyers and the witnesses turning hostile in the case.
IAF, civil aviation meet over Jammu airport
New Delhi, April 23
Under pressure from the Jammu and Kashmir government for the expansion and upgrading of the Jammu airport, officials from the Ministry of Civil Aviation and the Indian Air Force (IAF) today agreed to resolve the issues coming in way for the expansion plans at the earliest.
Telgi, accomplices convicted
Bangalore, April 23
Multi-crore fake stamp paper scam kingpin Abdul Karim Telgi and four of his associates were today sentenced to 15 years' imprisonment by a special CBI court which found them guilty in another case.
To go it alone in Goa poll
Panaji, April 23
The BJP today said it would go it alone in the June 2 elections to Goa assembly. "We will contest in at least 32 constituencies... The figure can be more but not less. The party expects to secure majority so that it can rule the state without any hiccups," leader of opposition Manohar Parrikar, who has been portrayed as chief ministerial candidate, told reporters at the BJP headquarters here.
Kalam leaves for Strasbourg today
New Delhi, April 23
President A. P.J Abdul Kalam is leaving tomorrow for Strasbourg to address the European Parliament on April 25 and will thereafter pay a state visit to Greece.
Now, dispose of waste in eco-friendly way
Panipat, April 23
With an aim to have neat and clean surroundings in the town's residential areas, Exnora and Pepsico have joined hands with the local Municipal Council to launch a waste-to-wealth project, which will see an effective waste management through recycling and composting.
Mauritius to observe Bihar Day
Patna, April 23
The Mauritius government has decided to observe Bihar Day in that country in June this year. The celebrations in Mauritius will be the first of its kind outside India.




Videos
Ajay Devgan –a versatile actor.
(56k)
A new visitor at Patna Zoo.
(56k)
BJP scouts allies as exit polls project hung house in UP.
(56k)
Elephant census in eastern forest range.
(56k)