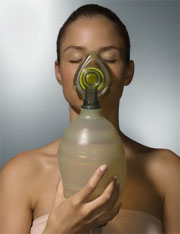 Common trigger for airway inflammation and asthma


Washington: UCSF scientists have discovered that a compound called chitin, which is found on the back of a beetle and crab's shell, may be the cause for triggering airway inflammation and possibly asthma.
They discovered that chitin leads to an allergic inflammatory response in the lungs of mice, and also increased production of the chitin-destroying enzyme made by cells lining the lung airways. — ANI
The loss of a loved one can lead one early to the grave
London: A recent study has revealed that in a long-term relationship, the death of a partner can increase the chances of the other partner to succumb to potentially fatal ailments like cancer and heart problems.
The study found that such chances increased by 27 per cent, and linked the phenomenon to a couple's lifestyle like poor diet or smoking. The reason could also be depression caused by the loss of a loved one. — ANI
Drug that may cure thousands of genetic illnesses
Washington: Researchers have demonstrated restoration of muscle function in a mouse model of Duchenne's muscular dystrophy (DMD), with the help of a new drug that has the potential of also countering thousands of other genetic illnesses.
The researchers from the University of Pennsylvania School of Medicine, PTC Therapeutics Inc. and the University of Massachusetts Medical School demonstrated the functioning of the new drug, developed by the South Plainfield, NJ-biotech firm called PTC124, that binds to the ribosome, a cellular component where the genetic code is translated into proteins, one amino acid at a time. — ANI
Drinking lots of water may not be of much use to marathoners
Washington: Runners may just stop gulping down litres of water while undertaking their laps.
Sports scientists have found that large fluid intake has absolutely no effect on body temperature or performance.
The study was conducted by a team of researchers led by Dr Chris Byrne at the University of Exeter.
As part of the study, scientists monitored a group of male runners taking part in the Singapore Army Half-Marathon, a 21-km race that took place in temperatures between 26 and 29 degrees Celsius and 75-90 per cent relative humidity. — ANI