Get instruction in e-learning
Do you have a keen interest in reading, a flair for writing, strong research skills and a good team spirit? If yes, you have the makings of a fine instructional designer, writes Ali Asger Y. Shaiwalla
Companies are going the e-learning way to meet their geographically dispersed training and communication needs—all to seize business opportunities before and better than their competitors. E-learning in India has come of age and it has become a favorite e-learning outsourcing destination for various global giants, the factors being professional competence in the English language, competitively priced human resources and business benefits offered by the government.

Careercature
Sandeep Joshi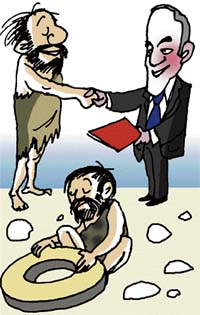 We are glad to announce a Rs 420-cr collaboration for a sophisticated wheel-making unit with you.

Loans are the ticket to higher studies
S.C. Dhall
Banks are lending more of a helping hand to students to pursue higher studies for gaining a competitive edge in their careers. Since education is becoming costlier by the day and footing the huge school, college or university fee is a strain on lower and middle -class pockets, banks are becoming more supportive in extending loans at attractive rates of interest with simple formalities.

IGS makes UK more attractive to students
THE New International Graduates Scheme will widen the eligibility criteria for those who complete their courses on or after May 1, 2007, allowing non-EEA graduates of the UK universities to work in the UK for up to 12 months on completion of their studies. It is an extension of the existing Science and Engineering Graduate Scheme and will be launched on May 1, Jeff Wilson, spokesman for the British High Commission said in New Delhi recently.

Careful hunt better than
quick exit
Amy Joyce
CLIP and save this one, folks. Each week job hunters write me, and each week the same questions crop up. While there aren't always hard and fast answers because every person and situation is different, I've rounded up experts to help with some of the most frequently asked questions. I hate my new job. How soon can I leave without ruining future prospects?

IT's Top 5 headcount crosses 3 lakh
Defying all concerns over the falling dollar, weakening US economy and soaring salary levels spoiling their party, the Indian technology firms continue to grow bigger when it comes to their employee strengths. The total headcount of the country's top five IT sector flag bearers -- Infosys, TCS, Wipro, Satyam and HCL have already grown past the 3,00,000 mark with an addition of over 20,000 employees in the first three months of 2007.

Welling Up
Tackling tears at the workplace
Mary Ellen Slayter
CAN crying cost you money? Dawn, a young worker who spoke on condition that her last name not be used, thinks it's hurting her bank account. But she's not sure what to do about it. She admits she's too emotional at work: "I come off cool and professional ... but really I'm not. When I get the slightest bit of criticism at those once-a-year, one-on-one reviews, all of my energy is redirected into holding back tears. I don't know why it happens, but I lose focus."

Pare down details in resume to most relevant
High school Spanish teacher Holly Banner recently completed a master's degree in school counseling and needs some guidance on how to land a counselor's job. At four pages, Banner's resume is twice as long as it should be, says Donna Brand, a career counselor. Cut it to two pages that highlight the experience and qualifications most relevant to a counseling career, she advises.

400-seat LPO facility launched
Legal services major Mindcrest announced the launch of 400-seat facility for legal process outsourcing (LPO) in Pune recently. Speaking on the occasion, Mindcrest co-founder and chief executive officer Ganesh Natarajan said, ''The centre will form the core for the delivery of LPO services and we hope to learn and add more and more value-added services to the current LPO offering.''

A little kindness can make a workplace better
Patricia Kitchen
Every office, if it's lucky, has its Bonnie Boynton. Boynton is a customer service representative and she's the person who bakes cakes for people's birthdays, brings in the plug-in air freshener when the office is smelling a little musty, says good morning to everyone and gets her husband to come in after work to help organise office festivity.

Smart Skills
Financial analysis: A Calculated CHOICE
Usha Albuquerque
Today, in an era of global business, global markets and global competition, a career in finance offers a host of opportunities. With markets tumbling up and down, there is increasing scope for bulls and bears in the many financial activities such as finance management, financial analysis, foreign exchange and capital market services, leasing and hire purchase, commodity markets, and a range of non-banking services that can provide excitement to those interested in a career in finance.

BPOs dangle bait to retain talent
Business Process Outsourcing (BPO) companies have come out with a novel idea to retain talent — they are offering employees opportunity for higher education while on the job, a move seen by analysts as a bait to deal with high attrition in the booming industry. "We have tied up with UK-based Chartered Institute of Management Accountants (for offering courses to employees).

Career Hotline
Case in favour of LPO
Pervin Malhotra
Q I am in my final year of LLB. What are the prospects for lawyers working in LPOs? Is it a poor option to practice in court?
— Kirpal Ahuja