M A I N N E W S
RBI to cut risk weightage
Home loans to cost less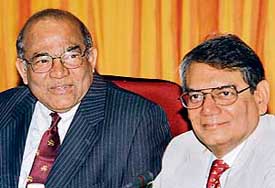 RBI Governor Y. Venugopal Reddy (left) along with Deputy Governor Rakesh Moh. — AFP

New Delhi, April 24
There is good news for home loan borrowers! RBI's stance to reduce risk weightage for housing loans up to Rs 20 lakh to 50 per cent could lead to softening of rates by as much as 0.5 per cent.
"We would pass on this benefit to the borrowers. It could be in the range of 25-50 basis points," Punjab National Bank Executive Director K Raghuraman said. The bank is yet to work out the quantum that would be passed to the borrowers of this segment, he said.
According to Oriental Bank of Commerce ED Allen C A Parera, there could be a marginal reduction in the interest rate on the segment in the near term.
However, it is a temporary measure, he said, adding the central bank could also increase it if circumstances turn adverse.
The RBI in its policy document reduced risk weight on residential housing loans to individuals for loans up to Rs 20 lakh from the existing 75 per cent to 50 per cent as a temporary measure.
It will be reviewed after one year, keeping in view the default experience and other relevant factors, it said.
ABN Amro Bank Chief Economist Abheek Barua said: "It was anticipated... banks would certainly pass on this gain to their customers." It is meant for lower cost housing. It was perceived that they had been given raw deal. So some kind of correction was required, he said. — PTI