M A I N N E W S
Budget session resumes amid din, adjournments
Tribune News Service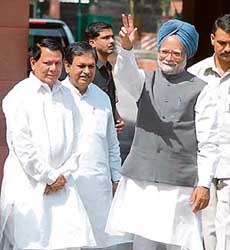 Prime Minister Manmohan Singh arrives at Parliament House to attend the second phase of the Budget session in New Delhi on Thursday. — Tribune photo by Mukesh Aggarwal
New Delhi, April 26
Nothing seems to have changed as during the resumption of the second phase of the Budget session of Parliament the Lok Sabha and Rajya Sabha got adjourned amid din over OBC quota and other issues.
While the Lok Sabha conducted its business after 2 pm, the Rajya Sabha was adjourned for the day.
Both houses were thrown into pandemonium soon after swearing-in of new members and obituary references.
The RJD, DMK and PMK members were agitated over the OBC quota issue while CPM members were seen targeting BJP over the human trafficking case involving its MP Babubhai Katara.
In the Lok Sabha RJD's Devendra Prasad Yadav was heard remarking that a situation of confrontation between the judiciary and the legislature appeared to have arisen over providing reservation to OBCs in educational institutions.
In the Rajya Sabha Dinesh Trivedi (Trinamool Congress) sought to raise the killing of farmers at Nandigram amid Left members' demand for suspension of question hour to discuss the Katara issue.
While RJD and DMK members sought to raise the OBC quota issue, the BJP members resorted to slogan-shouting, resulting in a lot of noise when nothing could be heard.
TDP members in both houses wanted discussion on the Babhli barrage issue involving Andhra Pradesh and Maharashtra. Congress members in the Lok Sabha from Andhra Pradesh were also seen raising the issue.
Both parties had staged a sit-in outside Parliament house this morning, demanding immediate stoppage of work on the project by Maharashtra.
Speaker Somnath Chatterjee sought to restore order, but in vain. He expressed anguish over the behaviour of members before adjourning the House till noon.