'ART & SOUL
Magic of puppets
B. N. Goswamy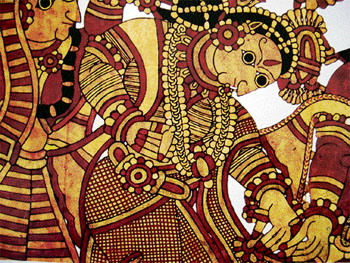 Detail of leather puppet figures from Karnataka
We are no more than a moving row
of magic shadow-shapes that come and go
round with sun-illumined lantern held
in midnight by the Master of the Show.
—From the Rubaiyat of Omar Khayyam (12th century) as translated by Fitzgerald
There are puppets everywhere, and one knows at least those from our own land well. Somewhere at the back of our awareness, their presence looms. They occupy spaces in our myths and epics and classics—from the Mahabharata to Panini, from Kalidasa to Somadeva; one reads about sutradhars, 'wielders of strings', and wise men speak of God as the greatest of them all, the real 'Master of the Show' that this world is; time was when in every third Indian film, as tragedy struck, some wandering faqir would appear from nowhere, singing a song about how all of us are nothing but kathputlis. String puppets, rod puppets, glove puppets, shadow puppets: one knows them all.
It is not till one sees these puppets move, however, especially to the accompaniment of music and narration that one truly realises the magic that they can weave. At home, we have three brilliantly coloured old leather puppets from Karnataka; they are decently framed and, lit from behind they make for an agreeable sight. But it was only when I saw a masterly performance of shadow puppets at the Crafts Museum in Delhi that I felt their power, their ability to transport the viewer, even an adult, to a different world in a matter of minutes.
Again, for the birthday of one of our children once, my wife made three glove puppets of characters from the story of Little Red Riding Hood; they were attractive, very attractive, but it was when she made them 'perform' while narrating the story that they came to life.
I was put in mind of all this by the Putul Yatra travelling event that the Sangeet Natak Akademi brought to town from Delhi earlier this month. To my regret, something kept me from witnessing any of the evening performances that were a part of the show, but I did get to see the splendid exhibition that was put up. There they were, imaginatively displayed, from all parts of India, reminders of a great tradition: Tolu Bommalatta shadow puppets of leather from Andhra; Sutrada Gombeyatta string puppets from Karnataka; Pavakathakali glove puppets from Kerala; kathputlis from Rajasthan; putul from Bengal; 'Gulabo-Sitabo' from Uttar Pradesh; even outsized, somewhat abstract, figures which many modern-day puppeteers sometimes work with. Heroes and demons, sages and beggars, golden deer and winged fairies, scheming villains and coquettish courtesans: everyone and everything meant to tell stories that stir memories, touch some layer of the mind.
What is it about puppet shows that makes them so riveting, one wonders. Even in this age of animation and sophisticated technology. Their capacity to lift us, with simple means, out of ourselves, our willingness to be led by them into a world made up of reality/unreality, our admiration for the skills involved, the puppeteers' choice of timeless themes, their wit, their humanity? There may be no given, or single, answers to these questions.
Researchers speak of magicians and conjurors—and shamans—being the forebears of puppet-masters, and their being active in Egypt as long ago as the third millennium BC; apart from the Indian sub-continent, one hears of puppets in medieval Iran; the Chinese know shadow theatre as Budaixi; the Japanese' fondness for Bunraku continues to this day; marionettes in Europe; Punch and Judy in England; Wayang Kulit, incomparable shadow puppets, in Indonesia. The list is unending.
What caught my attention most while tracking puppets down, however, was something that I had never heard of till now: the Roi Nuoc of Vietnam. As someone wrote: "For over a thousand years, performers in Vietnamese puppet theatre have always gotten cold feet. And very wet." This, because the performance is always in a chest-deep pool of water, with the water's surface serving as a stage as it were. According to oral tradition preserved in the land, this kind of water puppetry was first performed a thousand years ago on the surface of ponds and paddy fields in Vietnam's Red River Delta, the lively creation of farmers who spent their days in flooded rice fields.
At some point, they must have discovered that the water was an excellent medium for puppetry: it not only concealed the puppeteers' rod and string mechanisms: it also provided exciting effects like waves and splashes. It is not easy work, but for the viewers it is like a release from the drudgery of working in the field: great fun accompanied by raucous music: gongs and cymbals and bells.
One could go on with this, for there is delight in it. But it must end. In a Turkish puppet play, there is often an argument between two well-loved characters: Karagoz and Hacivad. At the end, the latter finally shouts, "You have brought the curtain down, you have ruined it." To this Karagoz replies, "May my transgressions be forgiven."