Pride of Haryana
R.W. Desai
Dr Sarup Singh and His Times: An Anecdotal Account
by Bhim S. Dahiya Shanti Prakashan, Delhi. Pages 152. Rs 300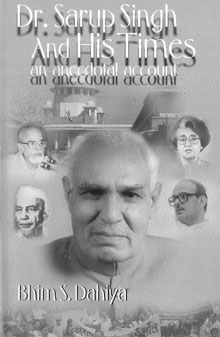 College principal, professor, vice-chancellor, UPSC, member, MP, and governor of Kerala, Gujarat, and Rajasthan, Dr Sarup Singh lived many professional lives in one life-time. Bhim S. Dahiya's 152-page fast-moving biography of Singh brings to the fore admirably his roles as son, husband, father, teacher, administrator, politician, statesman, and scholar. The book is a carefully researched depiction of a man whose humanitarianism and generosity manifested themselves in every position that he occupied. Himself a former vice-chancellor of Kurukshetra University, an MLA in the Haryana Assembly, and now the first incumbent to the newly created Dr Sarup Singh Chair at the same university, the author's career bears a striking resemblance to that of his subject. Interestingly both are from Rohtak district, and both earned Ph.Ds in English Studies from abroad; Dr Sarup Singh from the University of London on 18th-century English drama, and Professor Dahiya from the University of Cincinnatti on Ernest Hemingway.
Focusing on the highlights of Dr Sarup Singh's career, the biography is divided into 19 chapters among which are "A Feel of the Freedom Struggle," "A Popular Teacher," "As Vice-Chancellor (of Delhi University)", "UPSC and Bansi Lal," "As a Member of Parliament," "Exit from Haryana Politics." Born in the small village of Sanghi in Rohtak in 1917, Sarup Singh lost his mother in the first year of his life, leaving him in "the care of an uneducated father and an ignorant grandmother." Though illiterate, his father was keen to ensure that his son acquired a good education, and the boy did not let him down. Completing his schooling from the village school, he passed the Matriculation examination in the Ist division in 1934; BA Hons (English) from Ramjas College, Delhi, in 1938, securing the 2nd position; then stood Ist in MA (English) of Delhi University in 1940; and finally, after 11 years of college teaching, qualified for the Ph.D degree from London University—a rare distinction in that period after India's independence.
Quoting extensively from written records of former students as well as his own reminiscences of Singh during his years as principal of Kirori Mal College, professors at Kurukshetra University and Delhi University, and vice-chancellor of Delhi University, the author gives us a fascinating account of the heady mix of academics and politics that marked the decades from the 1950s to the 1970s. With the succeeding chapters the tempo quickens as politics plays an increasing role in Dr Sarup Singh's activities.
Dahiya's most amusing and ironical chapters on Haryana politics reveal his inside knowledge of the antics of the players in the game as well as his own Falstaffian perspective of amused detachment while surveying the absurdities and contortions of aspirants for power, as well as his Johnsonian irony in describing "the vanity of human wishes" that such aspirations reflect. One such anecdote deserves to be quoted: "As usual in politics, each of the groups (Dr Sarup Singh's and Ch Devi Lal's) wanted to corner more tickets than the other. The joke at the time was that while Dr Sarup Singh would not agree on a candidate unless he had at least a BA Pass degree, Ch Devi Lal would reject a candidate if he had an education beyound the High School level." But in the political tussle, Devi Lal proved too wily a fox for Dr Sarup Singh, the academic, to contend with, and, as Dahiya notes with wry humour, "Clearly, the match between Ch Devi Lal and Dr Sarup Singh was highly uneven. It was like a wrestling match between a plump pehalwan and a spectacled scholar."
The book's last chapters dealing with the evening of Dr Sarup Singh's life show him to be as mentally alert as ever though, inevitably, physically less energetic than before, as well as being disillusioned with the pettiness of human nature that politics exposed. Finding a refuge in his "favourite world of books," he, nevertheless, continued to remain in touch with the political scene, no more as a participant but simply a spectator: "Whenever Ch Bansi Lal was in Delhi," the author observes, "he always, without fail, called on Dr Sarup Singh for a little gossip, besides inquiring about his health and the welfare of the family. In those quiet days, Dr Sarup Singh's constant company were his books. I remember his bedroom in his house in Maharani Bagh where he loved to study and entertain his close contacts."
Written with painstaking care, enthusiasm, and admiration, Professor Dahiya's biography is lively, informative, and delightfully readable.