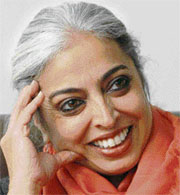 In Gray Abandon
You don't have to be Richard Gere or Nafisa Ali to stun. Have gray, will show is the mantra of the city's men and women in gray. Parbina Rashid chats them up
For a keen observer of trends, spending time at a salon is quite educative. The latest one to have dawned upon us during one such visit to a parlour in Sector 17 is that more men than women are colouring their gray hair.
Shade your inhibition
This summer bigger is better! The look of the season is loud, bold and confident and there is no room for the unadventurous or cowardly. Yes, we are talking about sunglasses. Defend your eyes with over-the-top and oversized sunglasses that make you feel and look like a movie star.
String Operation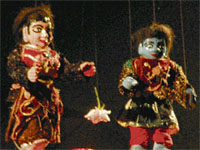 In the age of play stations and cartoons, is there a place for the age-old puppet in the child's world? Smriti Sharma probes
Certain art forms are larger than life, so much so, that they transcend the boundaries of time and age and live forever. Puppetry is one of them. What started as a medium of entertainment gradually became one of the most successful forms of art in ancient times. Though, it has lost its position and essence over the years due to introduction of various other forms of entertainment but it is still alive in many parts of the world. A testimony to this was the Putul Yatra — first-ever puppet festival held in Chandigarh recently — that drew interests from all quarters.
Tracking fashion
Sportsmen are not the only ones donning track pants
Treading off the beaten track, scores of teenyboppers are marching in the stuff not just for casual evening shopping to the quasi-malls across the city, but also to college grounds for flipping nonchalantly through the book of style.
Matka chowk
mart oliciting
Growing up – I was made to feel that solicitation was a rather nefarious activity. In fact, I remember the shape of grim wooden signboards saying – 'No Solicitation' in doctor's offices and courthouse pillars. That was a stiff-lipped way to stop beggars from pestering you. Now, that we are a free society and everyone is making good use of a well-connected and consumerist world – solicitation has somehow burgeoned in many shades.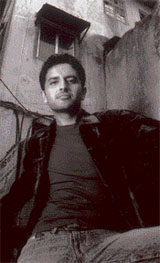 Little Interview
Future perfect
Hailing from the city of kebabs, it is the glamour of Mumbai that has lured this earnest young lad from Lucknow. Working as an actor, he says it is more than just a dream come true; it is his passion. Asheesh Kapur (26) is no stranger to performing arts. As a child, he was a keen participant at school's dramatic competitions, later backed up by an acting course he grabbed several ad campaigns, like Cadbury Bytes, Coca Cola, Reliance, Hyundai Getz and the Haines Jockey innerwear ad which got him an award at Cannes. Also to his credit are two short films, The split second hand and Rice plate. On a visit to the city, Asheesh spoke about his future, dream role and yes his love - hold those horses—its films and more films!
Navigating in style
The Nautica Navigators rally is back, promising you plenty of dirt, mud and grime! In its second year now, the 'high on life' rally is an expedition through some of the best adventure trails in Northern India, creating a challenging but safe course for the navigators. This four-day event offers the right combination of adventure, lifestyle, on and off road rallying and navigation.

He stands for peace
He wishes to work in the areas of international and multicultural education. And with the title of Rotary World Peace Fellow for 2007-09, Aditya Vikram Rametra is all set to achieve his goals. For the records, Rametra of Chandigarh has been chosen as Rotary World Peace Fellow under Rotary International's Scholarship.
More than a fashion statement
Cool t-shirts with nice little quotations are making more than just fashion statements. They are spreading eco-friendly messages, effectively and stylishly. No wonder, so many young members of the green brigade are donning them not just to look stylish, but also eco-friendly.
Violent videogames harmful for kids
A recently published book has proved the harmful effects of violent video games on kids and youth. Study on the subject revealed that children exposed to such games see the world in a more aggressive way and become more verbally and physically aggressive later.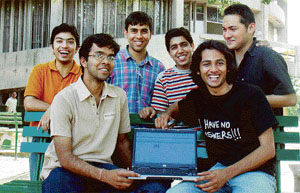 Life on the campus isn't all ha ha-hee hee. Its students are winners of a kind. Life Style catches up with some of these youngsters
A walk down Stu-c lane
A student portal captures memorable moments of the days on campus
The session is coming to an end and it's time to bid goodbye to department huts, honking of jeeps, geri round girls' hostels, campaigning during elections et al. But one thing that any pass out from Panjab University will miss the most are those endless hours spent at Student Centre or Stu-c, in the University's lingo.
Young Corporate Guns
The Tatas, Birlas and Ambanis be warned. The young entrepreneur from the city has come of age. He may not descend from a family of business tycoons, may not have Godfather's watching his back; but he possesses the skill and the intelligence that make him a winner. He is confident, but more importantly, he has a plan.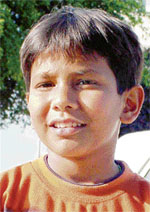 A lil' champ in the making
The credit goes to 'Lil Champs', a musical talent show that took the kids and their folks across the country by storm. And for 11-year-old Mohak getting a chance to showcase his singing abilities on small screen, was the best thing that had happened to him.


Write to Renee
I am a 36-year-old still single but sharing a good friendship with a 35 year old guy working in the same firm as me. The last few years we have been good friends and enjoyed each other's company. Now, that I am reaching an age where marriage would be a good idea, I feel may be he would make a good life partner. I do not want to scare him away being too forward and pushy. How do you think, I could ask him if he would be interested in a more permanent relationship. Do you think it will spoil my friendship?
Bond with the kids
Hollywood actor Nicole Kidman and husband Keith Urban are eager to spend more time with Nicole's kids from her first marriage to Tom Cruise. The 'hours' actor and her Kiwi-born hubby hardly get to spend time with the adopted kids, Isabella and Connor, for they stay with Tom and his current wife Katie Holmes. Keith said he regrets that he hasn't gotten to know them better.
First Day, First Show
High on style, low on substance
Designer speedway. Designer home. Designer disease. Designer poverty. The setting — New York. Yash Raj Films can't settle for less, you see. After all, the brand name has to take precedence over the product.
Voice behind the stars
If you have been wondering about the fantastic combination of Upen Patel's facial expressions with the dialogues in Shakalala Boom Boom; then the wait is over. The answer is Ankur Jhaveri, the voice behind Upen's role and not just him but many other actors and animations films as well. He recently dubbed for Honeymoon Travels Ltd and not many people know that he is the voice behind majority of the Hindi versions of Hollywood flicks.
---