Exam superintendent assaulted
He had stopped boys from copying
Tribune News Service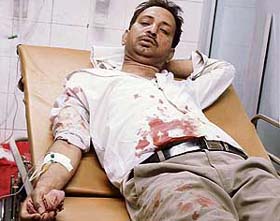 Kamal Kishor recovering at DMCH, Ludhiana, on Sunday. — A Tribune photograph
Ludhiana, April 29
Kamal Kishor, a senior lecturer of SCD Government College, has paid the price for being sincere to the examination duty.
Appointed as a centre superintendent by Panjab University at Arya College for Boys here, Kishor was beaten up by a group of students in the college last evening. His fault was that he stopped students of copying during the exam. Kishor was admitted to the emergency ward of Dayanand Medical College and Hospital.
According to him, while going home after his examination duty in the evening session, he was stopped by some students, who not only abused him but also assaulted him.
He alleged that even the police reached there but it did not try to catch the students.
"Later policemen came to the hospital and instead of taking the cognizance of the incident they reversely complained to my fellow beings present there that why the police was not informed," he said.
The victim said his fault was that he was performing his duty sincerely. He had caught many students cheating and had made cases against them. Certain students even threatened him of dire consequences if he informed anything to the Principal of the college.
It may be mentioned here that for the past four years, teachers or examiners were manhandled by students of Arya College. Some teachers even refuse to give duties at this particular centre because of "criminal behaviour of students during examinations".
Last year, Harblas, lecturer of SCD Government College, was also beaten up by students of Arya College for Boys.
Meanwhile, Ashwani Bhalla, general secretary, Punjab Commerce and Management Association, Panjab University, had agreed to bear the expenses of Kishor's treatment at the DMCH. He said the incident was reported to the vice-chancellor.
Various teachers' bodies have expressed shock over the incident and demanded action against the accused and the college authorities for not making proper security arrangements in the college.
Jaipal Singh and Kuldeep Singh, president and general secretary, Punjab Government College Teachers Association, respectively, have demanded cancellation of all centers of Arya College at least for the next five years.
R.P. Sabharwal, president, Arya College Teachers Association, said the culprits should be brought to book.
Office-bearers of the PCCTU have also demanded an action against the guilty. Rajinder Bhandari, president, BJP, Punjab unit, has also condemned the attack.