'Kirana da Kafila' released
Asha Ahuja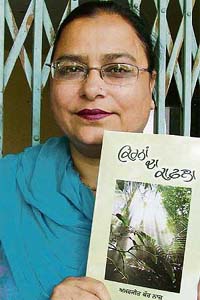 Amarjit Kaur Naaz with her latest book of gazals "Kirana da Kafila". — Photo by Inderjeet Verma
Ludhiana, April 29
"I feel that through the power of the pen one can bring in a lot of social changes in society and one does not need any other weapon," said gazal writer Amarjit Kaur Naaz.
Today not only her second poetry book was released but she has been awarded with the first Bibi Dalip Kaur Yaadgari Puraskar constituted by her son Daljit Singh Jassal.
Talking to Ludhiana Tribune, she said: "This is my second poetry book. My first book "Kanya Sangrha" was based on female foeticide and had got an excellent response. In this book I have again highlighted the social issues plaguing society. We can fight against the female foeticide and dowry problems."
Amarjit Kaur is a teacher by profession and writing gazals is her passion.
Asked whether people find time to read gazals in their busy schedule, she said cassette and audio companies should make cassettes and audio tapes of gazals so that people can listen to them while driving.
The number of kavi darbars have reduced and that has been a great setback to gazal writers and singers.
Among others present on the occasion were Daljit Singh Jassal, Niranjan Tasneem and Sardar Panchi.