PUNJAB

HARYANA

JAMMU & KASHMIR

HIMACHAL

REGIONAL BRIEFS

NATION

OPINIONS

MAILBAG

BUSINESS

SPORTS

WORLD

ADVERTISEMENT

Thursday, May 3, 2007, Chandigarh, India
Updated at 3:00 am (IST)

'Final agreement' on N-deal this month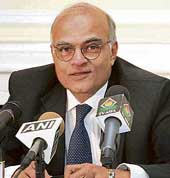 The United States and India on Tuesday said they had made "extensive progress" in talks to iron-out differences over a civilian nuclear deal, and American officials expressed optimism that a "final agreement" would be reached later this month.
Foreign Secretary Shiv Shankar Menon speaks at a press conference at the Indian Embassy in Washington DC on Tuesday. — PTI photo


In video (56k)


Reprocessing rights: DAE wants provision


World page: Tech transfer: India seeks info
Fresh PIL against quota filed in SC
New Delhi, May 2
The Supreme Court seized of a bunch of petitions against the OBC quota in central education institutions today accepted for consideration a petition challenging the entire reservation policy.
Trusted lieutenants fail to welcome Amarinder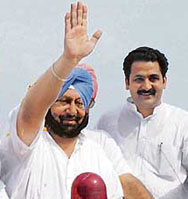 Patiala, May 2
The former Chief Minister, Capt Amarinder Singh, today arrived in his home town amidst rousing welcome from thousands of party workers, though most of them were from Patiala district only.

Former Chief Minister Amarinder Singh waves to party workers on his arrival at Shambhu barrier on Wednesday. — Tribune photo by Rajesh Sachar


CAST YOUR VOTE
Are universities of Punjab suffering from financial constraints?



India: The Tasks Ahead
SPECIAL SUPPLEMENT
125TH ANNIVERSARY CELEBRATIONS,
INAUGURAL SESSION
ADVERTISEMENT

CHANDIGARH

LUDHIANA

JALANDHAR
New

DELHI

HIMACHAL PLUS
New

AMRITSAR PLUS

LIFESTYLE
New

BRIDES WANTED

GROOMS WANTED

OTHERS

HOW TO PLACE ADVTS
19 die as bus plunges into gorge
Shimla, May 2
Nineteen persons were killed and 22 injured, five of them seriously, when a private bus plunged into a gorge near Majhiun in Kotkhai, around 70 km from here, today. (Details on Himachal page)

After Sohrabuddin, now it's Ishrat
Mumbai, May 2
The family of a young girl killed by disgraced Gujarat encounter specialist D.G. Vanjara in 2004 is demanding a probe by the CBI into the incident.

Kin of another encounter victim to move court
Gujarat HC Judge refuses to hear plea against Modi
Ahmedabad, May 2
Gujarat High Court Judge M.D. Shah has refused to hear the case seeking direction for filing First Information Report (FIR) against Chief Minister Narendra Modi, some state ministers and police officials for the 2002 riots.
Human trafficking
Lingaiah sent to police custody
Hyderabad, May 2
Telangana Rashtra Samithi legislator Kasipeta Lingaiah, facing charges of human trafficking, was today taken into police custody for interrogation.

E - Revolution 2005:
A Two-day IT conclave

Assembly Elections - 2005

Turbans

Chandigarh is 50

EARLIER FEATURES
Assembly status for PoK northern areas soon, says Zaidi
New Delhi, May 2
Amid demands by people of northern areas in Pakistan occupied Kashmir for constitutional rights and greater devolution of power, deputy speaker of Northern Areas Legislative Council Asad Zaidi has expressed the hope that the body will soon be given the status of an Assembly.

UK law firms for Indian links
Chandigarh, May 2
British law firms are keen on setting up their offices in India, says Baroness Ashton, parliamentary under secretary of state for the department of constitutional affairs, maintaining that nine Indian law firms have their offices in Great Britain.

Briton delivers 'water baby'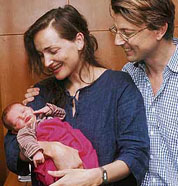 New Delhi, May 2
A British woman has shown Indian gynaecologists and would-be mothers a unique way of delivery by successfully opting for water-birth technique in a South Delhi hospital.
Delighted parents, British nationals Charlotte Walter and Jonathan Walter, watch their little "Water Baby" make a face at a press conference in Delhi on Wednesday. Charlotte delivered the baby using the "water birth" technique, without the use of any painkillers and other drugs required in the conventional methods at a hospital in Delhi. — Tribune photo by Mukesh Aggarwal
HOROSCOPE
AP police did it: Govt
May 2, 2007

Kausarbi was killed, body burnt
May 1, 2007

IOC facility hit in Tiger air raid
April 30, 2007
30 die in Pak blast; minister, son hurt
April 29, 2007
Democracy only antidote to Pak's Talibanisation, says Benazir
April 28, 2007
Members question judiciary for putting reservation on hold
April 27, 2007
IIMs may go ahead with admissions
April 26, 2007
PM dismisses Kasuri's claims
April 25, 2007
Quota stay to continue
April 24, 2007
Now, a transfer scam in Ludhiana
April 23, 2007
Woolmer suspect caught on camera
April 22, 2007