Real Estate — 1st ANNIVERSARY
Balancing home budget
Loan takers are cutting corners to pay monthly instalments, says S. Satyanarayanan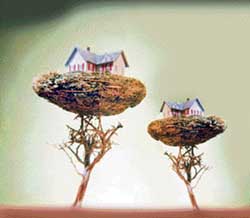 Probably for the first time in the past many years, so much individual attention was being focussed on what the RBI was going to spell out in its monetary policy. And thankfully, when the apex bank released its policy in the last week of the last month, there was a sigh of relief for several individuals, who were apprehensive of yet another increase in home loan rates. The impact of the January and March hike in CRR rates by the RBI was so severe on the existing home loan borrowers that many of them, who stretched their finances to the hilt by acquiring loans from banks to fund their dream house, are finding it difficult to balance their household budget.
news ANALYSIS
Realtors happy about cement price move
Builders even hint at passing on the cost cut benefit to the end users, says Ruchika M. Khanna
The recent reduction in duty on cement is bound to give a fillip to the real estate sector. The cut in price of cement (by nearly Rs 7 a bag), comes at a time when growth in the real estate sector had been hit hard by the rising cost in construction and increase in interest rates on home loans by banks.
Traditionally chic
Saurabh Malik says interior decorators are drawing inspiration from heritage
Contemporary is traditional to make conventional homes look modern. In fact, interior decorators are now drawing inspirations from cultural and architectural heritage in their designs to redefine décor for meeting up-to-date tastes of people living life on the glamour lane.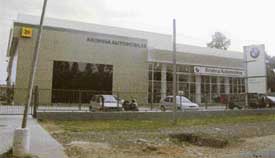 Conversion with botheration
Sanjeev Singh Bariana points out that red tape entangles quite a few building plans
It is not very heartening to learn that less than half a dozen industrialists received a formal clearance for work on their new projects in the Industrial Area after the Union Territory allowed conversion of trade nearly two years ago.
GRound Realty
Building brick by brick
Jagvir Goyal describes how to lend strength to basic building blocks
Brickwork constitutes an important part of almost every building in India. Over the ages, the brick has proved to be a time tested, durable and dependable building unit. Thieves and intruders have never found it easy to dismantle brick walls to enter a building.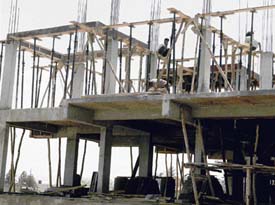 Freehold trend catches up
Pradeep Sharma finds out that while the apartment craze is on a downslide, land still plots a success story
The recession in the sale of the apartments notwithstanding, freehold commercial property is still plotting a success story on Chandigarh's periphery. With the apartment culture of the metros yet to take a foothold in the periphery, freehold property — commercial and residential —continues to catch the fancy of the investors and the end-users.
GReen HOUSE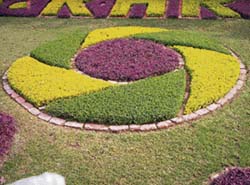 Covering dicey locales
Satish Narula talks of ground cover plants that can be used for making borders
Use of ground cover plants has revolutionised horticulture as never before. Such plants are called so as they cover the ground and used for overnight effects. They come handy at locations of uncertainty, for example, the outside berm of the house where you never know when the services departments will open up the land for repair, which normally is too frequent.
Garrotting Greenery
Rakesh Lohumi explains how expanding concrete is choking the already shrinking green cover
Urban forests have been the main casualty of the ongoing concrete explosion in the "Queen of Hills". The green cover is being destroyed in both visible and invisible ways. Trees are not only being axed to make way for concrete structures, they also drying up due to ecologically destructive planning and faulty design of buildings.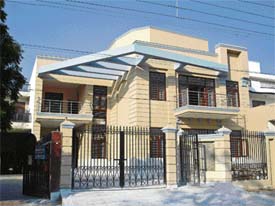 EXTERIOR ANGLE
Green buildings
Environment-friendly homes are the latest fad, says Devendra Malik
Climate is the main factor governing design for creating comfort condition inside the buildings. Basic design approaches such as landscaping, orientation, typology, form, natural light, ventilation, building envelope etc. should be addressed at the conceptual stage so as to maximise effects

SEBI against futuristic valuation
Market regulator SEBI is against real estate companies giving futuristic valuation of land with them in their draft prospectus for public offers, a move that could affect the fortunes of many realty firms.
TAX tips
Realty investment by foreigner not allowed
Q. One of my clients (a foreign national from France) wants to invest in India in real estate through our company. Can you suggest if it is possible and how can we do that?