Punjabi antenna
All about freshness and confidence
Randeep Wadehra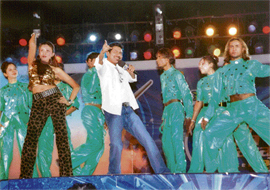 It is a pleasure to watch youngsters face the camera with such aplomb
Song and dance are part of our festivals, be they Lohri, Holi, Basant or Baisakhi. Punjabis don the most colourful dresses and celebrate these festivals with typical gusto. Jatta Aayee Vasakhi on Zee Punjabi celebrated the harvest festival of Punjab with typical gusto. In fact Baisakhi saw Punjabi music and artistes spill over to Hindi channels as well. Mika, Rajshree Sachdev, Luv Janjua and others could be seen on Star News singing folk and pop with the likes of Jagjit Singh among the audience.
Yo music channel is not exactly a Punjabi one. But one often watches the gabroos gyrating and yodelling Punjabi numbers. Therefore, it wasnít a surprise to find Malkit talking about himself, his monologue interspersed with some of his popular songs. Enjoyable stuff.
PTC is one more channel jostling for Punjabi eyes and ears. Mercifully, it is not a music channel but a news channel. However, unlike Punjab Today, it retails stories from various parts of the country in Punjabi. So, whether it is Ludhiana, Mumbai or Chennai, you get news items dealing with sports, politics and medicineó-to name a few. Given the short lifespan of most Punjabi news channels due to lack of advertisement support, it remains to be seen how long will this channel survive.
There was a time when anchoring was monopolised by a few names. Talk, music a comedy shows had familiar faces day in and day out. But, recently, some interesting new anchors have come up. There is Preet on the ETC channelís Star of the week, for example. Showing no signs of camera consciousness, she converses with the guests without awkward pauses or irritating interruptions. The other day she was interviewing singer Amrita Virk, wherein she kept her comments to the minimum although she couldnít resist the temptation to recite a couplet. Talking of which, taking credit (even if unwittingly) for someone elseís composition is just not done as she had done while interviewing video director Karan Brar.
Kajal on Dil Diyan Gallan has a contrasting style. She avoids reciting verses, is vivacious with a flair for incisive queries. She has the potential for becoming a star TV host. One can say the same of the girl, couldnít get her name, who has replaced Anirudh Sharma as anchor of ETC Punjabiís Ridka on Road. Fresh faces invariably herald refreshing changes. It is a pleasure to watch youngsters face the camera with such aplomb.