For the love of arranged marriages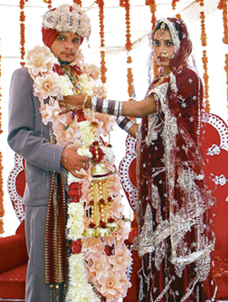 The young today want to have the wedding cake and eat it too. They want to opt for love marriage but with the horoscopes matched. The trend 'arranged love match' is fast catching up with GenNow, says Ritusmita Biswas


Sheila and Anand had been dating for the last few months. They liked each other and thought they had a future together. Their parents had met and had approved of each other's family. However, there was a small hitch. The family priest of Sheila did not approve the match as he felt that Anand's stars would not ensure a trouble-free life for them. So they decided to call the relationship off.
Traditional match-making methods are being replaced by more friendly and innovative ways
Looking for spouses off the shelf
Papri Sri Raman
Is the swayamvar back in India, where the tradition of a bride-to-be choosing her groom began thousands of years ago and is recorded in the great epics? Perhaps.
Walking the ramp for a mate
Girish Dubey
Prospective brides and grooms from the Kesri sect walked the ramp in Varanasi as suitors. They said the occasion provided them the scope to do away with the dowry system.
Brain game
Australian researchers have developed a brain driven computer game that doesn't require hands to perform actions. The unit includes a sensor-studded helmet, which allows the wearer to perform actions like opening doors and picking up objects using only the brain.
Pet names for cars
Pet names purportedly increase the bonding between friends, and give a sense of intimacy to relationships, but did you know that the same applied to you and your car? According to a survey by internet insurer esure.com, more than one out of every five people, have pet names for their cars.