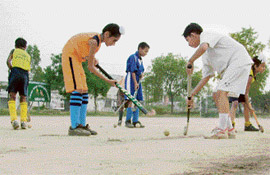 Nursery needs nursing
Sansarpur, the village with 14 hockey Olympians to its credit, has fallen victim to the apathy of the sporting fraternity as well as successive governments, writes Parwinder Blaggan


Budding players have to make do with a bumpy surface in the absence of an Astro-turf. — Photo by S.S. Chopra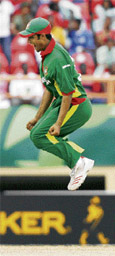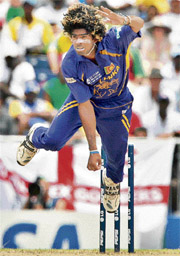 Back to the future
Ivninderpal Singh
The cricket World Cup was a mixed bag for the subcontinent. While India and Pakistan fared disastrously, Sri Lanka and Bangladesh gave a good account of themselves. On the whole, it was an improved show compared to the fiasco at last year's Champions Trophy in India, where none of the subcontinental teams had made it to the semifinals.
Dynamic young players like Lasith Malinga (left) and Tamim Iqbal outshone top stars of subcontinental teams during the World Cup. Photos by AFP, Reuters
IN THE NEWS
Windies of change
Experienced middle-order batsman Ramnaresh Sarwan has taken over the reins of the beleaguered West Indies team from batting genius Brian Lara, who retired at the end of the World Cup. It was a disappointing tournament for the hosts, who failed to reach the semis despite the familiar conditions and the crowd support.
Indian golf took a major leap with two of its stars producing sublime golf almost 10,000 km apart in Beijing and Madrid last week. While Gaurav Ghei was carving the opposition with a steady round that gave him a two-shot win in the $500,000 Pine Valley Beijing Open on the Asian Tour, Jyoti Randhawa, who recently became a father, came within a whisker of becoming only the third Indian to win on the European Tour.

The superb performance of Gaurav Ghei and Jyoti Randhawa (inset) has provided impetus to the Indian golfing campaign this year. — Photos by Reuters

MAIL
Awesome Aussies
Kudos to Australia for winning their third World Cup title on the trot. The invincible Aussies reasserted their supremacy with a ruthless display, convincingly defeating one rival after another. Before the mega event, Australia had lost five matches in succession — two to England and three to New Zealand — and it was speculated that they would not be able to defend their title this time.