Hollywood Hues
A fading starís tale

Sunset Boulevard is an incisive melodrama with fetching moments but a tendency to overstay its welcome, writes Ervell E. Menezes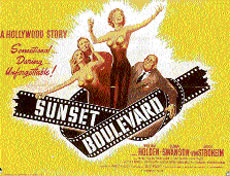 Every once in a while Hollywood comes up with stories of ageing actresses trying to retain their long-lost stardom but Sunset Boulevard (1950)`A0is`A0the ultimate classic in this genre. And why not?
You have ageing star Gloria Swanson play an ageing yesteryear`A0goddess Norma Desmond and young, even a bit brash, William Holden as the luckless Hollywood scriptwriter who goes to live with this wealthy older woman, a slightly dotty and very possessive relic of the silent screen trying to make a comeback. The trio is completed with Max, the butler, played by veteran German filmmaker Erich von Stroheim.
Nancy Olson plays a younger woman and aspiring scriptwriter who shows more than a passing interest in the hero while Cecil B. DeMille and Hedda Hopper play themselves. More than half a century later, the film still retains its charm, the delightfully lit interiors (shades of`A0Citizen Kane), not intrusive music (Franz Waxman picked an Oscar for it), sweeping camerawork by John F. Seitz but above all it is`A0the impeccable screenplay by Wilder, Charles Bracket and D.N. Marshman Jr. studded with delightful one-liners that has the viewer asking for more.
It is an incisive melodrama with fetching moments but a tendency to overstay its welcome; the first reels are surely the best, though the last scene is worth waiting for and the malicious observation throughout is a real treat. A tad slow today no doubt but this is only a very minor handicap.`A0 The psyche of a yesteryear queen, bordering on lunacy (the line in which she wants Cecil B. DeMille to wait is just unbeatable), could scarcely have been bettered`A0and the enigmatic butler also has something to contribute to this graphic overview of tinsel town.
That`A0director Billy Wilder could have redone the same subject in 1978 (with Holden and Marthe Keller in the lead roles and with favourite co-scriptwriter I.A.L. Diamond in Fedora) only reiterated his fondness for the subject. In Fedora, the age difference between the pair was less and the woman not as obsessive.
But the liberties Wilder took with the voice-over is clearly the secret weapon to the plot and with so many Hollywood celebrities flitting in and out of the spotlight like moths to a flame, the effect was magical. But there was also a strong touch of pathos for that`A0ageing star. The minute details were there and these further enhanced the narrative.
Little wonder then that Sunset Boulevard is a classic.