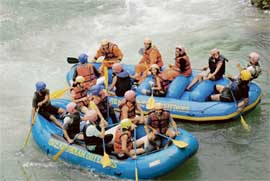 For the love of adventure
Jumping off a 20-ft-high cliff, skirting dangerous rapids, they do it all with aplomb. Smriti Sharma returns from the star-studded 'High on Life' rally
Our adrenaline started pumping the moment we got an invite to take part in the Nautica Navigators-High on Life Rally. But the actual journey turned out to be a real test for the adventurous soul — for it required a lot of wit, energy and presence of mind to go through the entire rally which started on April 28.



White-water rafting on the Tons river is an exhilarating experience.
I know what you doing
THIS SUMMER…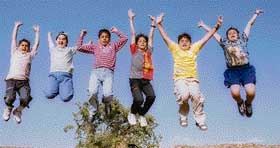 This summer break, children are heading for an adventure-packed trip, writes Swati Sharma
Tied in ropes, children sporting helmets are geared up to try everything, right from rappelling to rafting. Busy erecting tents for a nap or cooking a meal they are enjoying every bit of it. "I have been taking kids out for summer camps for the past six years and each year the response keeps getting better," says Vipul Negi of Negi Corporation. "We have already enrolled in 250 kids for this season." Vipul takes the kids to a site ahead of Shimla towards Mashobra where they take part in activities like rock climbing, rappelling and survival of the fittest.
Write to Renee
I am a 32-year-old woman with a successful career. I have been married for the past seven years and we have a daughter. I have just discovered that my husband has been having an affair with his secretary for the past five years. It was difficult for me to believe as I felt she was no competition, but now that I am convinced of his infidelity, my self-esteem has suffered a huge blow. How am I supposed to deal with this situation?
MUST Watch
First Day, First Show

Yaatra, Spiderman3
Fact blends with fiction
Yaatra, directed by Goutam Ghose of Dakhal Paar, Padma Nadir Majri, Patang, Gudiya, Dekha and Aabar Aranye fame, is a superb film. The storyline, screenplay, direction and performance—all contribute to the film's success. It has some exquisite photography and costumes, creates a beautiful ambience with Khayyam's musical compositions complementing the mood.
Spidey & Co dazzle yet again
Cyber bonding
From friends in the campus to NRIs in Canada, city's gen-next is now bonding via online communities, writes Purva Grover
It was after a lot of persuasion by a friend that I decided to become a member of the ever-increasing Orkut community. Her logic was simple; if you are a part of the computer savvy age, then it is the 'in-thing' to have your profile loaded on the site. The community with its motive of creating a closer and intimate network of friends soon caught my fancy too. And, here I was exchanging scraps with lost buddies (whom, I didn't quite remember) in my school's community, and there my ex-batchmates were getting excited over creating an exclusive community for our batch. Now, I didn't quite really understand the excitement, but well for old times sakes I joined in.
BIG PICTURE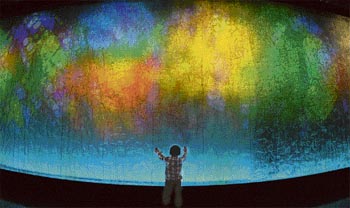 VIBGYOR: A colour palette created by artificial rays on a 148-feet long wall fascinates this young boy. Reuters
Madagascar melodies
Gizavo and Mirandon's music is a fusion of varied genres
The Alliance Française de Chandigarh in collaboration with the French Embassy in India and Indian Council for Cultural Relations (ICCR) is organising a world music concert by Régis Gizavo and David Mirandon. The duo will be performing at Baba Makhan Shah Lobana Auditorium, Sector 30 on Monday.
Matka chowk
Mast Melon
Now that the heat is scorching our eyeballs, a lot of us have turned to melons. The markets are full of melons, in many new shades. The good old, green tarbuj is outdated by a bevy of new-fangled melons. Three years ago, I used to buy tarbuj from the street-side vendors. Now, air-conditioned vegetable and fruit shops have gleaming, exotic looking melons marking the beginning of a new kind of summer in India.
Downtown girl
Dazzle-bugs get ready for a roll in the dust. No stardust here for this is the tart pill or rather the bitter-glitter of glamour. As the business of 'beauty' booms in every corner of the country and the number of wannabes swell, showbiz cuts across muddled lines of region and politics to stop right at the doorstep of the prettiest face and the fittest body, irrespective of how small the town is. Does it? Sometimes it does but then why is the glamour industry not teeming with our pretty faces from the region?
Haywire
Tale of the wagging tail
If the civic authorities have their way, certain sounds may soon not be heard at the city's Sukhna Lake. No, it's not the quack-quack or the twitter of the feathered flocks that could become a thing of the past. It's the bow-bows that may cease. This has naturally rent the air with noises from other quarters. Strollers from different walks of life, who're also proud owners of canines, have raised a chorus of protest over an MC proposal to ban pets at the lake.
Connected to style
Connected to panache, the city youth is dialing up fashion with mobile accessories like never before. And, it's not just belt clips and holsters they are going in for; they are now ringing in a new trend by picking up flashy keypads and anti-radiation security screens.
A soup a day keeps fat away
Wondering how to stop all that calorie rich food from going down your throat at mealtimes? Well, the answer is simple start eating low-calorie soup. A study shows that people who eat low-calorie soup before a meal tend to reduce their total calorie intake at lunch by 20 per cent.
---