M A I N N E W S
Tandoor case

Execution of Sharma stayed
Legal Correspondent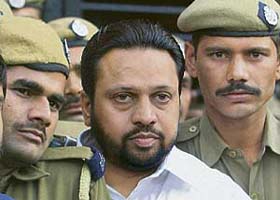 A file photo of Sushil Sharma being taken to court. — AFP photo
New Delhi, May 7
The Supreme Court today stayed the execution of former Delhi Youth Congress President Sushil Sharma, who was awarded death sentence for brutally murdering his wife Naina Sahani also a party activist 12 years ago while admitting his appeal against the conviction.
Since the stay of sentence on admission of an appeal in murder cases is a general rule till the case gets finality in the apex court, a Bench comprising Justices S B Sinha and Markandey Katju accordingly issued the interim stay on his execution also.
The trial court had awarded death sentence to Sharma for killing his wife with gun shots and then cutting her body into pieces and burning it in a "tandoor (oven)" of his restaurant in the posh New Delhi area, barely a few hundred meters away from Parliament House in June 1995.
The death sentence was confirmed by the Delhi High Court when it was referred to it for putting its seal by the trial judge as was required under the law. The High Court simultaneously had also dismissed Sharma's appeal against conviction as well as award of capital punishment to him.
As an important question whether brutal treatment with the dead body after the murder committed with gun shots puts the case in the category of the "rarest of the rare" offences and warranted the award of death sentence, was involved in the case, the Bench referred it to a larger Bench of three-judges to lay down the law.
Sharma had challenged the award of death sentence on the ground that even if the charges against him were presumed to be correct, he still could not be sentenced to death as the subsequent act of destroying the body did not make it a rarest of the rare case but it could be termed as an offence under Section 201, destroying the evidence.
While issuing notice to the NCT Government and the Delhi Police, the prosecuting agency in the case, the court directed them to file replies to the issues raised by Sharma in his appeal.