Health Notes
Link between domestic violence and asthma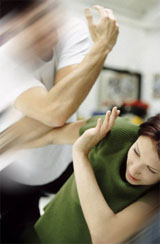 Washington: A new study finds a strong association between domestic violence and asthma.
The study, from researchers at the Harvard School of Public Health (HSPH), raises questions about the role of stress in the development of this common respiratory condition.
"Classic environmental triggers for asthma have been carefully studied, but there is less information on the role of stress in asthma episodes," a Press release quoted lead researcher S.V. Subramanian, Assistant Professor in the Department of Society, Human Development and Health at HSPH, as saying.
"The risk posed by domestic violence — and perhaps other psychosocial factors — could be as high as some well-known environmental risk factors such as smoking." The authors of the study performed their research using a large national representative database of 92,000 households in India, where domestic violence is highly prevalent. Each respondent was surveyed in a face-to-face interview in one of 18 Indian languages. — UNI
Honey can help diabetics
Madison (Wisconsin): Spreading honey on a diabetic ulcer could prevent the need to amputate an infected foot, researchers say.
A doctor at the University of Wisconsin who helped about half a dozen of her diabetic patients avoid amputation has launched a controlled trial to promote the widespread use of honey therapy.
The therapy involves squeezing a thick layer of honey onto the wound after dead skin and bacteria have been removed.
The honey kills bacteria because it is acidic and avoids the complication of bacterial resistance found with standard antibiotics, Jennifer Eddy, a professor at the University's School of Medicine and Public Health, told AFP.
"This is a tremendously important issue for world health," Eddy said. — AFP
Statins may cut risk of cataracts by half
NEW YORK: Cholesterol-lowering "statin" drugs, such as Lipitor or Zocor may protect the eyes as well as the heart. In a study of older adults, it was found that people who took statins had almost a 50 per cent reduced risk of developing a cataract, a clouding of the lens of the eye.
"Because a protective influence from statins on cataract could have potentially important health care implications, this relationship needs confirmation and exploration," research-ers conclude.
Oxidative stress is thought to play a role in the development of cataracts. Therefore, researchers say it is plausible that treatment with statins, which are thought to have antioxidant as well as cholesterol-lowering properties, could protect against this common age-related eye problem. — Reuters
Online tool for clinical trial transparency
Geneva: The World Health Organisation (WHO) has launched a new website that will enable researchers, health practitioners, consumers, journal editors and reporters to search more easily and quickly for information on clinical trials.
The site works as an entry point or portal into multiple, high quality clinical trial registers with a global search function.
For a doctor or a patient, identifying all clinical trials relevant to a decision to receive a specific treatment option is a difficult task, made easier if the results have been reported in the published literature.
However, a significant proportion of research is never published and, even if it is published, it is possible that only part of the story is told in the publication.
Relying on information provided only by published trial research is, therefore, unreliable and leads to inadequately informed treatment decisions. — ANI
Older-adult dieting may not reduce activity
Washington: New research carried out by the Wake Forest University Baptist Medical Center has revealed that older- adult dieting doesn't necessarily result in reduced physical function.
Weight loss results in the loss of both muscle and fat, and scientists have wondered whether it's safe for older adults to compound this effect by dieting.
The current study has suggested that it is wise to embark on a diet programme to cut calories.
"Our results suggest that losing weight through calorie cutting won't lead to increased disability in older women," said Dr Jamehl Demons, the lead investigator of the project, which is evaluating the effects of weight loss on physical performance. — ANI
Blood pressure climbs along with weight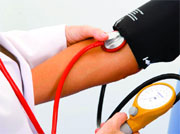 NEW YORK: A man's risk of developing high blood pressure rises along with his weight even when it's within normal range, according to a new study.
In a study of more than 13,000 male doctors, researchers found that the higher a man's body mass index (BMI) was at the outset, the higher his risk of developing high blood pressure over the next 15 years. This was true even among men who were normal-weight or only mildly overweight.
Dr Rebecca P. Gelber and colleagues at Harvard Medical School report the findings in the American Journal of Hypertension. — Reuters