Career Hotline
Raising the bar
Pervin Malhotra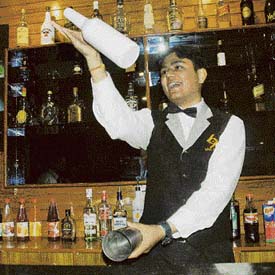 Q I am very keen to work in the hotel industry. But I have already done my graduation and don't feel like doing a 3-year course. Will bartending be a good idea. Where can I learn this skill?
— Mihir
A Cheers!! This is one career where you get paid for getting people drunk! Bartending can be a long-term career or a casual part-time job. And the money's not bad either. Besides mastering the trick of juggling bottles, booze and glassware with a flourish and shaking/stirring up your own version of the perfect Molotov Cocktail or Singapore Sling, you need to be familiar with the terminology and lineage of French wines, champagne serving techniques, flairing, classic cocktail recipes and correct posture. Yes, balance and posture are the key to mastering that perfect 360-degree swing without spilling a drop! But Flair bartending is not just about flipping bottles.
With some practice, you'll learn to slot your client and instinctively guess what would tickle his/her taste buds. Once you know what goes with what, there's no end to experimenting. A dash of this and a splash of that - and you may well have a new invention to your credit! The rest will come with experience.
Besides the metros like Mumbai, Bangalore and Delhi which have a large demand for new bartenders every year, bartending as a profession is fast gaining popularity in satellite cities like Chandigarh, Jaipur and Pune as well.
Starting out at about Rs 12,000 - 15,000 p.m. at a star-rated hotel (salary + tips) you could end up making 3-4 lakh p.m. once you've built yourself a reputation. And thanks to the explosive growth of bars and pubs in the country, there is a growing demand for skilled bartenders.
Essential bartending skills form part of full-fledged Food & Beverage courses taught at Hotel Management colleges. However, if you are only interested in learning the art of bartending, you could consider the following option:
Johnnie Walker Bartending Academy (launched by global liquor company, Diageo), Tulleeho Portals Pvt. Ltd.,B 304, Annapoorna CHS, Yari Road,Versova, Andheri (W), Mumbai - 400061 www.tulleeho.com/johnniewalker
Tel.: 26317283 / 9867364289 (10:30 am to 5:30 pm, Mon-Sat) E-mail: ask@johnniewalkerbartending.com/
Course: Professional Bartending Programme (6-mth) The course in Mumbai started in Feb and the one in Delhi is slated for Sept '07. Bangalore is also on the cards. Selection: Written test, Interview.
Faculty headed by Shatbi Basu. Fee: Rs 35,000. (Free training for the economically backward).
There are a few other courses as well but you will have to check out their credentials.
Earn and learn
Q I have just completed Class XII. I am very keen to go into marketing as a career. Are there any relevant jobs I can do while pursuing my graduation which will help me earn some pocket money as well as gain some experience?
— Neeraj Behl
A The hunt for manpower is leading retail players to rope in school students [Class X and XII passouts] to help satisfy the retail sector's insatiable appetite for skilled workforce. Companies such as Reliance Retail, Pantaloon and Godrej Agrovert are going to schools to scout for talent.
Reliance Retail which plans to recruit around 5 lakh employees for its venture over the next five years, expects to hire around 60-70 per cent of its front-end staff from government schools. These Class XII passouts then undergo a six-month training programme before getting on to the shop floor. Pantaloon Retail hires as many as 300 school passouts from both government and private schools, out of the 600 it recruits every month. The retail major also gives them an option of pursuing a BBA in retail through distance-learning programmes at Madurai Kamraj University and pays half the fee on completion of one year of the course. It currently has around 3,500 school passouts on its rolls picked up from various schools in the country.
Chemically active
Q I am interested in pursuing a career in chemistry, and want to become a scientist. How do I go about it?
— Ritesh Gaur
A Chemistry is a pure science that deals with the composition of matter and its changes, reactions and transformations.
Specialising in chemistry will open up opportunities for working in research and development, management, marketing, production and a host of related fields. In fact, no other field in pure science offers such a wide array of options.
If you are interested in research, a good option would be industrial research. You must also probably be aware that there are several CSIR labs where Chemistry is one of the thrust areas. These include the Center for Bio-Chemical Technology, Delhi; Central Drug Research Institute, Lucknow; Indian Institute of Chemical Biology, Kolkata, and large pharmaceutical firms like Dr Reddy's Lab, etc. DRDO also recruits chemical scientists. So do Bhabha Atomic Research Centre (BARC) and Indira Gandhi Centre for Atomic Research, Kalpakkam (TN).
It's an exaggeration to say that there's no scope for research in India.
Agreed, we need better labs and computational facilities. Research facilities in many of our universities are depressing. In a move to stem this downslide, MHRD has accepted the report of the committee set up for the purpose and empowered it to implement its recommendations. Rs 400 crore has been allocated each year till 2007 exclusively for developing the infrastructure. Let's see how much of it really translates into visible results.
However, from your question it seems that you are also probably seeking greater monetary rewards in which case an R & D job in industry (ranging from plastics and polymers to pharmaceutical and biochemical) might be the right stepping stone. Industrial Chemistry is a multi-faceted field, which opens up a wide range of options in pure research as well as commercial applications.
Only a deep interest and passion for the subject coupled a high degree of commitment will see you through the extended and at times, lonely period of study. This may also demand some extent of sacrifice - in terms of delaying your entry many years into a "real" job or starting a family. But if you love the subject, the joys and rewards of plumbing the depths of knowledge to explore what lies beneath the surface can be hugely satisfying.
You can alternatively opt for a B.Tech or B.Sc (Tech) in specialised fields such as food technology, biochemical engineering, oil technology, pharmaceuticals, etc. As a scientist you can explore any area of interest — either pure or applied.
Avenues in ayurveda
Q Can you please suggest some recognised Ayurveda colleges that offer a BAMS degree in Punjab?
— Raksha Vardan
A Sure, here are some of the colleges under the Baba Farid and Punjab Universities…
lBaba Farid University of Health Sciences, Faridkot (Govt) Ayurved Mahavidyalaya, (Govt.) Patiala 147001
lDesh Bhagat Ayurvedic Medical College & Hospital, (Pvt) Post Box No.5, Amloh, Gobindgarh, Distt. Fatehgarh Saheb 147203
lShri SSMD Ayurvedic College & Hospital, (Pvt) G.T. Road, Village Duneka, Moga, Distt. Faridkot 142001
lMai Bhago Ayurvedic Medical College for Women, (Pvt) Ferozepur Road, Muktsar 152026
lShaheed Kartar Singh Sarabha Educational Society's Ayurvedic Medical College & Hospital, (Pvt) Vill. & P.O.- Sarabha, Distt. Ludhiana 141105
lGuru Nanak Ayurvedic Medical College & Hospital, (Pvt) Barkandi Road, Near Ajit Cinema, Muktsar 152026
lGuru Nanak Ayurvedic Medical College & Research Institute, (Pvt) Malerkotla Road, VPO-Gopalpur, Distt. Ludhiana 141118
lShri L.N Ayurvedic College, (Pvt) Sant Tulsidas Marg, Amritsar 143001
lDayanand Ayurvedic College, (Pvt) G.T.Road, Mahatma Hansraj Marg, Jallandhar City 144008
lPanjab University, Chandigarh
lShri Dhanwantri Ayurvedic College & Hospital, (Pvt) Sector-46B, Chandigarh 160046.
The writer is a noted career consultant
Please send in your query, preferably on a postcard, along with your full name, complete address and academic qualifications to: Editor, Jobs and Careers, The Tribune, Sector 29, Chandigarh-160030, or at careers@tribunemail.com