Shaping managers for eco management
With global warming generating heated debates, B-schools have realised the importance of teaching environmental management strategies to future business managers. The course on Corporate Environmental Management and Carbon Markets introduced by IIM-L is a step in this direction, writes Sushil Kumar
While the global society is witnessing unprecedented economic growth owing primarily to large-scale industrialisation, the growing degradation of the environment is becoming the main threat to human survival in the long term.


Careercature
Sandeep Joshi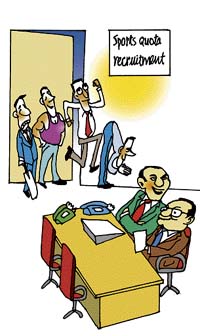 We should recruit a gymnast for this post. He will be more flexible than others.

Bits & bytes
IGNOU to commence campus placements
The Indira Gandhi National Open University (IGNOU) has invited applications from its students, both IT and non-IT, for placement in various companies. IGNOU vice-chancellor V.N. Rajasekharan Pillai announced that the University Campus placement Cell had formulated a major plan for the students.

Dressed to skill
I.M. Soni
Skill is the buzzword in the career market today. A look at the requirement, employment and wanted advertisements reveals that people with specialised skills are preferred. A deeper look reveals that skills are professional expertise.


Mentoring young employees
Amy Joyce
The interns are coming! The interns are coming! That means it's time to get your mentoring skills all shined up and ready to go. But how do you know you're doing right by these new worker bees?


Resume writing
For aviation job, narrow flight experience
Maryann Haggerty
Anthony Moorehas a variety of aviation experience—"from aircraft design through flight testing to the Paris Air Show." Moore's resume says he is seeking a position as an "international aviation economic analyst." That's way too broad, says Darryl Jenkins, an aviation analyst and consultant.


India Inc steps in to cover talent gap
With a view to cashing in on the requirement of skilled professionals for the retail sector, Bharti Resources, a wholly-owned subsidiary of Bharti Enterprises recently announced its tie-up with the Global Retail School (GRS) to impart training to jobseekers in this sector.
Bharti to offer courses in retail, insurance

Infosys earmarks 1,600 cr for training

Industry asked to use skills of ex-servicemen

Wipro BPO among best employers in India
Wipro BPO has been rated as one of the best employers in India by the Best Employers Hewitt Survey for 2007. Wipro Technologies, the global IT services business of Wipro Limited, said recently Wipro BPO has been acknowledged among one of the top 25 Best Employers in India, standing 11th among 230 participating companies spanning banking, IT services, manufacturing, public and fast moving consumer goods sectors.


Smart Skills
Evolve in the field of ANTHROPOLOGY
Usha Albuquerque
Suddenly an old science finds a new interest. Young people today looking at studies in social sciences, development studies, even economics are beginning to find value in anthropology. Many are taking it as a base subject for further study in law, forensic science, public health and social work, and universities such as London, Sussex, even Oxford and Cambridge are encouraging students to take up this subject.


Career Hotline
Raising the bar
Pervin Malhotra
Q I am very keen to work in the hotel industry. But I have already done my graduation and don't feel like doing a 3-year course. Will bartending be a good idea. Where can I learn this skill?
Earn and learn

Chemically active

Avenues in ayurveda