Farmers given relief, says minister
Ludhiana, May 10
Minister for jails, tourism and cultural affairs Hira Singh Gabria has asserted that the SAD-BJP government was committed to safeguarding the interests of the farmers and had released a compensation of Rs 76.01 crore for disbursement among affected farmers for damage of their crops besides Rs 62 lakh for the damage to houses by the recent hailstorm and heavy rains.
Need to address farm problems felt
Ludhiana, May 10
Director Agriculture, Punjab, Balwinder Singh Sidhu has warned that problems confronting Punjab agriculture today, if not addressed soon, will have far-reaching social implications. He said extension workers in various departments have a greater role to perform by creating awareness among farmers and educating them of the new research findings.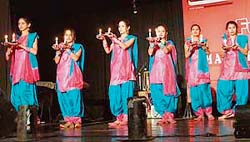 Students of INIFD welcome the guests during their tenth-year celebrations in Ludhiana on Wednesday evening.
— A Tribune photograph
Private schools' body seeks government help
Mandi Ahmedgarh, May 10 |
The Punjab Private Schools Organisation has urged the state government to come to the rescue of private affiliated schools, which have been providing quality education to children belonging to poor sections of society at a nominal fee.
Art and craft competition held
Ludhiana, May 10
An Art and Craft Competition for students was held at the GMT school campus, here, today. Several students took part in various competitions like face painting, collage making, rangoli making, best out of waste, and flower arrangement.
Students of GTM school with their faces painted; and (right) students five finishing touches to their Rangoli creations at GMT School in Ludhiana on Thursday. — Photo by IV
GGSSC holds educational seminars
Ludhiana, May 10
The chief secretary of Guru Gobind Singh Study Circle, Dr Charan Kamal Singh, said that the directorate of youth services of the organisation organised educational seminars in seven schools of Ludhiana district here yesterday.


2 businessmen convicted in cheating case
Ludhiana, May 10
The court of judicial magistrate Tarsem Mangla has convicted two local businessmen, Varun Jain and his brother Munish Jain, of Bhai Randhir Singh Nagar in a cheating case.