All for a two square meal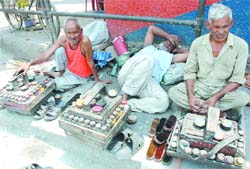 Cobblers are eking out to earn their living despite mercury reaching at scoarching point . — Photo by Rajiv Sharma
Students not allowed to appear in exams
Pay hefty damage for lecture shortage
Amritsar, May 11
A high pitched drama was witnessed at the Guru Nanak Dev University (GNDU) when the students protested against the university authorities for not allowing them to appear in final exams of five year integrated course of the MBA/ MCA.
Rs 325 for Rs 25 gown; students allege foul play
Amritsar, May 11
The old students of the 115-year-old Khalsa College have alleged that the principal raked in moolah during the annual convocation ceremony held recently. They allege that they were charged Rs 325 per gown instead of mere Rs 25 paid by the college to the gown vendor.
Injured student gets GNDU's financial relief
Amritsar, May 11
Guru Nanak Dev University (GNDU) would bear all the expenditure of hospitalisation of Shagufta Nayyar, a student of Master of Journalism and Mass Communication studying at the University Regional Campus, Jalandhar.
Spring Dale Society adopts Maqboolpura school
Amritsar, May 11
In its endeavor to work for the underprivileged the Spring Dale Education Society has adopted, citizens forum Vidya Mandir, a school with a strength of 400 students located in Maqboolpura, Amritsar.



Students at the Citizens Forum Vidya Mandir School. — A Tribune photograph
GNDU upgrades BTech course
Amritsar, May 11
Keeping in view the high demand of B.Tech graduates in sugar and alcohol industry of the country, Guru Nanak Dev University (GNDU) has upgraded its four-year course in sugar technology to B.Tech sugar and alcohol technology duly approved by the All India Council for Technical Education (AICTE).
Seminar on child labour
Amritsar, May 11
A seminar on issues pertaining to child labour and bonded labour was organised at the office of assistant Labour Commissioner by Free Legal Services Authority.


Tempt your taste buds with 'chatti di lassi'
Amritsar, May 11
Despite the onslaught of colas, city residents still prefer beating the heat with a large glass of chilled lassi. And for those finding the traditional lassi too heavy to qualify as fun drink, there is an alternative -- chati di lassi. It is a special sour treat for those who want to savour the familiar taste of home-made lassi, which is made from pasturised milk.
Pritam's dream 'Rangan Di Barsaat' comes alive
Amritsar, May 11
The tough job of giving shape to iron at his lathe workshop has not affected Parwinder Pritam and his craft of translating his sentiments into poetry.Seethed in down to earth reality, his poetry strikes an instant rapport with his readers as Pritam retains the true aroma of soil of the Punjab in his poems

Parwinder Pritam, a Punjabi poet, works at his lathe in the walled city area of Amritsar. — Photo by Rajiv Sharma
Small Scale Woes
Printing packaging industries facing shortage of skilled labour
Amritsar, May 11
About 250 small scale industrial units which started flourishing immediately after independence supplying machines throughout the country and abroad are now facing shortage of skilled labour and power shortage.
'One man worker' inspires one and all
Amritsar, May 11
Popularly known as one man worker Dr Sushil Gupta, a child specialist and an alumni of Amritsar Medical College delivered an enlightening talk at Spring Dale Senior School today, which was about his experience as a doctor and also a call to the students, to take up the onus for a clean and healthy environment and also create awareness among the poor sections of the society.

Dr Sushil Gupta a child specialist and alumni of Amritsar Medical College, honours students of Spring Dale Senior School. — A Tribune photograph
Restore ex-gratia grant to farmers, PM urged
Amritsar, May11
A delegation of office bearers of District Congress Committee, Amritsar (rural) led by its president Sukhjinder Raj Singh (Lalli) Majithia and PPCC vice-president Lakhmir Singh Randhawa met Prime Minister Manmohan Singh in New Delhi.