AUDIO SCAN
Songs for the soul
Zikr: Call of a Sufi
(Mystica Music)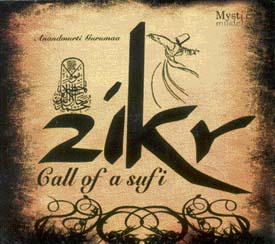 Chanting of a holy name has been a preferred form of meditation in almost every religion. Sufis have used this technique extensively. As the sound seeps into their soul, they go into a trance, which opens the door for communion with the Almighty.
Anandmurti Gurumaa is one spiritual leader who has not confined herself to singing songs connected with any one religion. In the past she has come out with albums not only of Hindu bhajans but also on Sikh shabads. In keeping with the tradition, this time she has brought out this compilation of melody of love from Turkey. Zikr, which is always performed in a dargah, is for the first time being brought into the open, she claims.
The music has been given by Kanchman Babbar, who makes masterly use of Neyzen, a sort of Turkish flute with a haunting sound.
The opening track is "Call of the Heart" in which Allah's grace is being sought. As the name itself suggests, it is a prayer that your heart opens up and hidden mysteries are revealed.
The search for the divine invariably ends in one's heart. This divine union is presented through "Wajjad".
Once the ego surrenders and every breath gets blessed with His name, the soul soars, as represented by "Rooh-e-Parwaaz" (I think the correct expression is "Parwaaz-e-Rooh").
Name of Allah is recited with every breath. This tariqat requires considerable practice and is taught in all dargahs in Turkey, Iran and India.
The closing composition is "Jannat" (the paradise) in celebration of the rejoicing, emancipation and enlightenment.
Punjabis on the floor
(Sa re ga ma)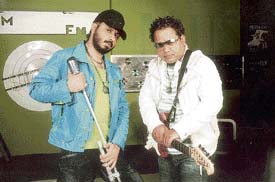 This is the latest album of the band "Joshilay" comprising composer Julius and singer Jolly. The 10-year-old band had cut its first disk in the year 2000. In 2004, Joshilay collaborated with international pop group "Snap" for a track "The Power of Bhangra", which fared very well all over the world.
The album uses the tumbi and the dhol extensively. The lyrics are also typically Punjabi rustic in a hiphop style.
Most of the songs are uptempo, dancing kind. There are exceptions though, like the opening track Kuli wich yaar labh lai based on a traditional Sufi song. This number has a video track as well, along with O meri soniye inspired by an old Hindi film song, intercut with English and Punjabi hooklines.
Then there is a traditional bidai song which closes the album. But in between, there are only high-spirited songs like Yaara-o-yaara, Tere Naal and Nach Lai. — ASC