Crackling with wit
Arun Gaur
The Tenth Rasa: An Anthology of Indian Nonsense Ed. Michael Heyman. Penguin Books, New Delhi. Pages IV+223. Rs 295.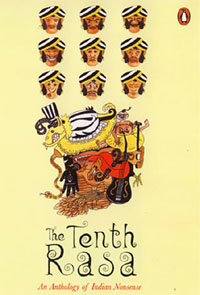 In his incisive and informative introductory chapter, Heyman provides the characteristics of "the Indian Nonsense" which he calls the "tenth rasa"—artistic expression, word play, cultural exuberance and whimsical joy. To illustrate this rasa, the prose and poetry pieces from as many as 17 Indian languages, ranging from Tenali Ramalinga to Rabindranath Tagore, have been assiduously collected and translated with the hope that while the Indians would make fresh discoveries, the non-Indians would grasp the vastness of our subcontinent and its cultural aspects.
The anthology has a wide coverage that includes folk tales, nursery rhymes, film songs, lullabies and ceremonial verses. Diverse are the objects of these native texts. Through a complexity of rhythms, logical manipulations, deliberate arbitrariness, absurd precision, successive de-contextualisation, extreme colloquialism and typical sound patterns, they rebel against the colonial hegemony, draw caricatures of reverential icons and bring about social cohesiveness. Grappling with the meaningless meaning of these pieces, a reader may laugh at himself enjoying the self-reflexive doubts that question the world we have created.
To overcome the difficulties in translating the texts from different languages, cultural backgrounds and periods the translators have abundantly taken recourse to neologisms ('creep-crawl', 'glitter-throbs' 'sleep-woken' 'jiffy-jot'), port-manteau words ('Suncle' from 'sun' and 'uncle') and sound duplication ('Pumkin-Grumpkin', 'Slip-slop-sper-lash glub-glub-glubbash', 'skip-hoppity hop' 'non-stoppity stop', 'Sniffly-snuffle gap-toothed wuffle'). Treatment varies with individual cases. While the Bengali word 'Drighangchu' has been translated as 'Gorgondola' to echo the slightly guttural and ominous sound of the original, 'Haw-Jaw-Baw-Raw-Law' has been retained as such since there was no English word available with equivalent semantic resonance.
Clearly, a lot of energy has been spent in these well-planned time-consuming exercises, as is borne out by the detailed footnotes. However, as expected, the translations fail frequently. They become childish ("The new town of Ninepur/Has nine hundred folk./If you don't know town law/You'll some trouble provoke"), crude ("On Wednesday one who flowers plucks/Will grow a pair of big buttocks"), formulistic ("I gave the bhuja to the grass-cutter/The grass-cutter gave me grass/I gave the grass to a cow..."), jejune ("Idlis and chutney get into a fight/The ten-paise banana/Slips down in fright."), bereft of the native Punjabi peppery edge ("My husband's woman/...Take a saucerful of water/Drown yourself and die!"), and commonplace ("A jar knocked upside down will float").
It does have some excellent pieces but these almost entirely come from the few prose-translations. One example is M.D. Muthukumaraswamy's Marma Naaval: "Doesn't emptiness feel loneliness? Doesn't it feel fatigue and boredom? If emptiness copulates with emptiness, emptiness alone would remain. Can't shadow being bear human pregnancy?" Here the nonsense becomes intuitive. S. Ramakrishnan's The History of the Ramasamy Lineage: The Hidden Truths is another good example: "A gigantic ink bottle was spilled in front of his house as a mark of respect...realism Ramasamy was penning his new realist novel 17:17:17."
I am afraid that culture cannot be transmitted easily through the verse-translations, particularly when the sounds dominate the meaning. Gradually, the increasing sound may become a noise and get on the nerves, if one feels that there are no intimations of immortality. Paraphrasing, prose-translations or prose commentaries are always the better options.