Love in Cairo
Jonathan Brown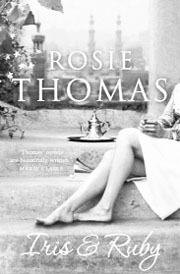 A family saga blending the hedonistic world of World War II in Cairo with the harsh realities of a mixed-religion relationship in modern-day Egypt has been named the Romantic Novel of the Year.
Rosie Thomasís Iris & Ruby, her 19th novel, was described by the chair of the judgesí panel as a "stomach-wrenching" read at the awards ceremony at Londonís Savoy Hotel, organised by the Romantic Novelistsí Association.
It is the second time that Ms Thomas, 59, has collected the prestigious writing prize, having won with her third novel, Sunrise, 22 years ago.
Iris & Ruby tells the story of a troubled teenager, Ruby, who swaps an unhappy home in London for the exotic allure of life with her 82-year-old grandmother, Iris, in Cairo. While the two barely know each other at first, romantic events soon mean that they have more in common than they could have imagined.
The city provides an evocative backdrop for both womenís love affairs; Iris relives a torrid wartime relationship with the enigmatic but doomed Captain Xan Molyneux, while Ruby falls for a local boy. Ms Thomas, who wrote the book after travelling to the Egypt, said it appealed to male and female readers.
"There is always a hunger and a passion for a good story," she said. "I know that a lot of men have read it from my post bag."
Organisers said they felt this yearís shortlist undermined arguments that women authors have tended to rely too heavily on their own personal experiences and feelings.
Ms Thomas, an inveterate traveller who has climbed in the Alps and the Himalayas, competed in the Peking to Paris car rally, and spent time on a Bulgarian research station in Antarctica, said the romantic genre needed no defending.
Of Iris & Ruby, she said: "I am not giving too much away by saying there is a death. It is as much about old age as it is about falling in love and getting married. There is falling in love but there is no getting married. And it does not have a happy ending."
Ms Thomas received an engraved glass trophy and a cheque for `A35,000 by the chair of the judges, Dame Tanni Grey-Thompson. Dame Tanni said: "I have to feel connected with the people; the story has to be stomach wrenching and, when itís over, stay with me, almost like part of my life. Rosie Thomas writes so beautifully about the feelings of people in war, the imminence of death and the importance of passionate and romantic love."
By arrangement with The Independent