Actor for all seasons
Peter O' Toole's clear diction, telling mannerisms and distinctive persona made him a unique actor. He towered over the others, writes Ervell E. Menezes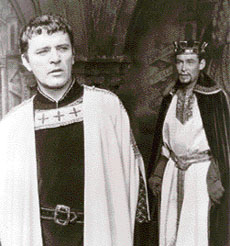 Richard Burton and Peter O' Toole in Becket
Poor, poor Peter O'Toole, surely one of the all-time greats, has never won a Best Actor Oscar despite earning eight nominations. The Academy of Motion Picture Arts and Sciences did grant him an Honorary Oscar in 2003 but that is not just the same.
That there was a gap of 24 years between his seventh nomination (My Favorite Year in 1982) and his eighth Venus (2006) indicates that the 74-year-old Irishman pursued other interests, one of them being coaching cricket professionally in 1997. He may have also lost interest in the profession.
But his salad years were clearly the 1960s with such winners as Lawrence of Arabia (1962), Becket (1964). Lord Jim (1965), The Night of the Generals (1967) and Lion in Winter (1968). O'Toole could have clinched that Best Actor's Oscar by then and he surely deserved it, but the Academy has its own thoughts on the subject.
Born on August 2, 1932, in Connenara (Galway county, known to us by that old popular song Galway Bay) in Ireland, the son of a bookie, he made his stage debut at 17 after giving journalism a try earlier. He has also worked as a radioman in the Royal Navy for two years. He then joined the Royal Academy for Arts where his classmates included Albert Finney, Alan Bates and fellow Irishman Richard Harris. He then joined the Bristol Old Vic and the rest, as they say, is history.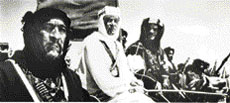 T. E. Lawrence (Peter O' Toole, centre), Auda abu Tayi (Anthony Quinn, left) and Sherif Ali ibn el Kharish (Omar Sharif, right) wage war against the Turks in David Lean's Lawrence of Arabia
O'Toole has two daughters Pat and Kate, by his first wife Sian Phillips and a son Lorcan by model Karen Brown. Kate O'Toole followed her father as actress in the theatre and the Irishman, now 75, has had a colourful life.
His cinema debut was in the inconspicuous The Savage Innocents in 1960 but in 1962 he made it king-size as the adventurer T.E. Lawrence in David Lean's epic Lawrence of Arabia. Since then he is a byword in the realm of acting. His clear diction, at times high-pitched, his telling mannerisms, quite often converted into tantrums, and his very distinctive persona made him unique. He towered over the others.
I still remember him castigating his wife (played by Irene Papas) in Becket by calling her "a withered flower in the pages of a hymnbook which duty forced me to wander in." At another time he calls her "a Spanish cow" to say nothing of his barking at his children. It was then-shocking lines like this that boosted his image. Then there's that dramatic meeting of the two protagonists on horseback on the beach. Despite him being the co-star, he overshadowed Richard Burton as the hero Becket.
This was my first "encounter" with O'Toole and it was in my pre-film critic days. I had missed his mega-success Lawrence of Arabia. Then as a critic I saw him in The Night of the Generals, which was built around the Night of the Long Knives incident during World War II. He plays Tanz, a psychopathic Nazi General, who started killing prostitutes during World War II and had to be tracked down. What a superlative performance, that twitch in the eye when he was under pressure, comes vividly back to me now, over 40 years later. For me O'Toole was in the top bracket if not Numero Uno.
In this film and in Lawrence of Arabia one is at once able to see how Omar Shariff pales before him. With the role in Doctor Zhivago, Sharif's stock went sky high but when put alongside O'Toole, there was not even a close contest. After Generals, O'Toole was the man for all seasons. There was that forgettable tale of larceny How to Steal a Million alongside Audrey Hepburn. Larcenous capers were in in the late 1960s. He then played Henry II again in Lion in Winter. The film may have been somewhat mushy, as we look back now, but O'Toole and Katherine Hepburn were both brilliant. It must have been his peak.
Next was Goodbye, Mr Chipps, the perennial teacher story and Lord Jim, that enigmatic seafarer based on Joseph Conrad's novel and a brief role in the embarrassing spoof (that never came off) in Casino Royale. The uncanny, indomitable Irishman made over 80 films covering a wide range of subjects. Even musicals, like Man of La Mancha.
The 1970s were his middle years, not as good as those glorious 1960s but he came back in the 1980s with The Stuntman and My Favorite Year. But the 1980s found him slide, riding into the sunset as it were with his youthful zest being lost to time and drink (like Burton he is quite a tippler) as he found meaningful roles increasingly hard to come by. The same old story of most ageing stars.
By then he had lost much of his zest and was more like a Lion in Winter but to have made Venice in his 70s and got a Best Actor nomination is creditable. But give me the 1960s Peter O'Toole any day, there are few who could measure up with him in those his salad days.