Of palace intrigues
Curse of the Golden Flower has an intricate plot. It is the sets that impress but the action is slow.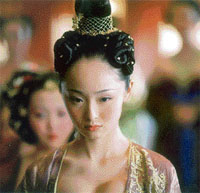 Gong Li in Curse of the Golden Flower
Set in the 10th century AD on the eve of the Chang Yang (golden chrysanthemums) Festival, Curse of the Golden Flower is a story of Court intrigue in which the Emperor (Chow Yun Fat) returns unexpectedly with his second son Prince Jai (Jay Chou) to celebrate the holiday. Given the coldness between the Emperor and his ailing Empress (Gong Li), it could be a pretext to make Jai his successor.
For years the Empress and her stepson, the Crown Prince Wan (Liu Ye), have been having an illicit affair and Wan feeling trapped wants to escape with his secret love Chan (Li Man), the Imperial doctor's daughter. Meanwhile, Prince Jai is worried about his mother's deteriorating health. But it is the doctor who is secretly poisoning the Empress.
Is the Emperor aware of this? Quite likely. Since there's no love lost between the two. But what about the role of the doctor? It is an intricate plot and though the establishing shots serve their purpose there is little action. It is only the sets that impress but the action is slow.
It is only once the two sides are at war that the film springs to life. Shades of Crouching Tiger, Hidden Dragon, director Zhang Yimou really goes to town. Warriors with weapons rain in on the enemy and one by one all the royal members are implicated. Who's shielding whom? In a male-dominated society, the women are at a disadvantage but they, too, have their secrets.
There's a Chinese saying, "Gold and jade on the outside, rot and decay on the inside," and that typifies the dark side of the Court pageantry. The hedonism and lavish aesthetics of the later Tang Dynasty is studiously recreated, but the human emotions and intrigue are not ignored.
Reminiscent of Cecil B. DeMille's biblical epics, director Yimou orchestrates the action sequences with the skill of a magician and it gives enough scope for cinematographer Xiaoding Zhao to freak out.
Thousands of players are involved yet the principal characters get personal attention. Chow Yun Fat of course does justice to the lead role and the beautiful Gong Li does her bit. Jay Chou and Liu Ye lend adequate support but it is the strong narrative that is equal to the pomp and pageantry. If there's one word to describe the film, it is spectacular. Don't miss it.
— E.E.M.