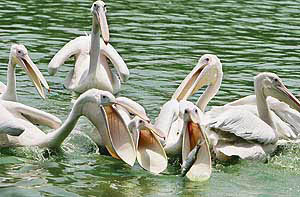 Rosy Pelicans fight for fish during feeding time at the Zoological Park in New Delhi on Sunday. — AFP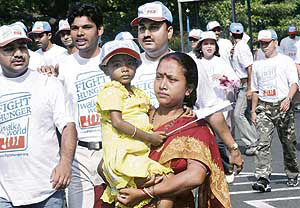 FIGHTING HUNGER: A mother and daughter join the 'Fight Hunger, Walk the World' to end child hunger which was organised by the United Nations World Food Programme in Kolkata on Sunday. — AFP
Ban on women working in night to go in Karnataka
Bangalore, May 13
Women in the IT capital of India can now work beyond the 8 pm deadline in the hospitality and small business sectors with labour minister Iqbal Ansari undergoing a "change of heart" following stiff opposition to the move and deciding to request the cabinet to repeal the provision in the Karnataka Shops and Commercial Establishments Act, 1961.
Lok ayukta for sack of two ministers
Bangalore, May 13
The Janata Dal (Secular) has been caught on the backfoot with a pro-active Lok Ayukta recommending Chief Minister H.D. Kumaraswamy to drop two ministers, who had failed to submit their statements of assets and liabilities for 2005 to his office within the prescribed date.
CPI-ML dents Shahabuddin's citadel
Patna, May 14
Beyond the fast-track special court constituted by the Nitish government that led to the recent conviction of the don of Siwan, Mohammad Shahabuddin, it was the sustained political and social agitation by the CPI-ML which largely helped the judiciary to finally book this RJD MP known for running the biggest-ever crime citadel of Bihar.
Dawood's sister faces action
Mumbai, May 13
The Mumbai police is all set to charge Dawood Ibrahim's sister Haseena Parkar under the tough Maharashtra Control of Organised Crime Act (MCOCA). Sources said the charges may be brought against her as early as tomorrow morning, which would enable the police hold those suspected of aiding and abetting her without bail.
Centre to set up 500 ITIs, says minister
Jamshedpur, May 13
Union labour and employment minister Oscar Fernandes said today that the government would set up about 500 Indian Technological Institutions (ITIs) across the country by the next five years.
Hannah Foster Murder Case
Kohli's extradition order likely today
New Delhi, May 13
The final order on the extradition of NRI Maninder Pal Singh Kohli, accused in the rape-cum-murder case of British teenager Hannah Foster, is likely to be pronounced by a city court tomorrow.
Shakti Kapoor upsets pandits
Jaipur, may 13
Bollywood 'baddie' Shakti Kapoor found himself in a controversy during the shooting of a film when he allegedly abused some local pandits of the holy town of Puskar in Rajasthan's Ajmer district, about 150 km from here, last night before he tendered an apology.
Human Trafficking
Speaker convenes all-party meeting
New Delhi, May 13
Lok Sabha speaker Somnath Chatterjee has convened an all-party meeting on Tuesday to discuss the human-trafficking issue, which has sullied the image of parliamentarians.
Make pre-marriage counselling must: Activists
Guwahati, May 13
The activists, who have come under the banner of the Assam People's Alliance to Combat HIV and AIDS, have raised the demand for a legislation making it mandatory for young couples to undergo counselling on the disease before marriage.
Mass marriage of Sikh couples
Hyderabad, May 13
City-based Gurdwara Prabandhak Committee today conducted a mass marriage ceremony for 15 Sikh couples who were economically backward with the blessings of Guru Granth Sahib.
Pandher transfers ownership to son
Ghaziabad (UP), May 13
Main accused in the Nithari killings case, Moninder Singh Pandher, has transferred all his moveable and immoveable property to his son Kuldeep Singh, an official said.
4 kg gold looted
Mumbai, May 13
A businessman was robbed of 4 kg gold jewellery that he was carrying to the city from a northern suburb in the early hours today, police said.
Magician's early escape
Hyderabad, May 13
The much-publicised "great underwater escape" by magician Akash, son of famous conjurer Jadugar Anand, turned out to be a damp squib today as the young magician, in a hurry to break his father's record, came out of the wooden box before it submerged in the Hussain Sagar lake here, where the event was held.
Dalits' tales of woe
New Delhi, May 13
Stories of horror, angst and agony poured out as 60 Dalit victims of untouchability from across the country gathered at the capital to narrate their travails at the Indian People's Tribunal - a public hearing that took place over the weekend.




Videos
Religion a tool to spread environmental awareness.
(56k)
UPSIDC office sealed.
(56k)
DMK to hold crucial meet.
(56k)
Malihabadi mangoes head for US market.
(56k)